134th Infantry Regiment Website

"All Hell Can't Stop Us"
T/Sgt Vernon A Ahlgren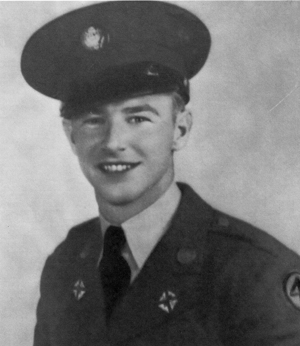 134th Infantry Regiment - Company E
Vernon August Ahlgren, son of August Hjalmar and Augusta Ahlgren, was born June 19, 1915 in Jamestown, New York. He registered for the draft on October 16, 1940. At that time he worked at the Jamestown Metal Corporation. He was a member of the New York National Guard and was Federalized with the 174th Infantry on December 13, 1940 in Rochester, New York.
He joined Company E, 134th Infanty Regiment from the 48th Replacemet Battalion on August 9, 1944 and served as a platoon sergeant. He was reported missing in action September 11 while securing a bridgehead across the Moselle River at Flavigny, France. It was later confirmed that he had been killed in action September 17, 1944. T/Sgt Vernon A Ahlgren is buried in Lake View Cemetery, Jamestown, New York.
The Buffalo Evening News, Buffalo, New York, October 5, 1944