134th Infantry Regiment Website

"All Hell Can't Stop Us"
T/Sgt Frank W Beadle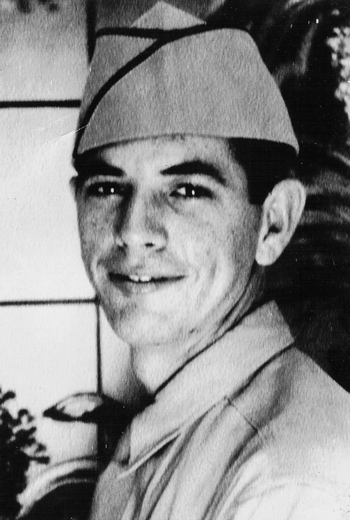 134th Infantry Regiment - Company I
Frank Wesley Beadle was born February 21, 1925 in Reserve, Louisiana. He registered for the draft at age 18 on February 22, 1943. He was a student at the time. His draft registration record lists him as 5' 10" tall, weighing 135 pounds, with brown hair, brown eyes, and a light complexion. He was inducted into the Army on July 26, 1943 at New Orleans, Louisiana. He served in Company I, 134th Infantry Regiment. Private Frank W Beadle landed on Omaha Beach in Normandy, France on July 6, 1944. He was wounded in action July 17, 1944 during the battle for St Lo, France and returned to duty on September 5, 1944. He was again wounded in action September 18 during the Battle of Sugar Loaf (du Pain de Sucre) at Agincourt, France and returned to duty September 28, 1944. He was awarded the Purple Heart Medal with Oak Leaf cluster for suffering these wounds. Frank W Beadle was promoted to Staff Sergeant on November 19, 1944. He was assigned to temporary duty in the United States at Camp Shelby, Mississippi from December 11, 1944 until returning to duty with the 134th Infantry Regiment on April 9, 1945. At that time they were fighting along the Rhein-Herne Canal in the vicinity of Gelsenkirchen, Germany. He was again promoted to Technical Sergeant in July 1945. He returned to the United States aboard the Queen Mary, sailing from Southampton, England on September 5 and arriving in New York Harbor five days later Monday, September 10, 1945. Frank Wesley Beadle passed away May 23, 2015. He is buried at St Peter Catholic Church Cemetery in Reserve, Louisiana.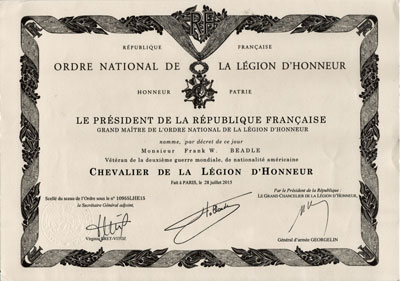 Frank W Beadle in fromt of the 35th Infantry Division Museum, Topeka, Kansas
Thanks to Wade C Beadle for these pictures of his father.