134th Infantry Regiment Website

"All Hell Can't Stop Us"
Pfc Everett J Beerman
134th Infantry Regiment - Company B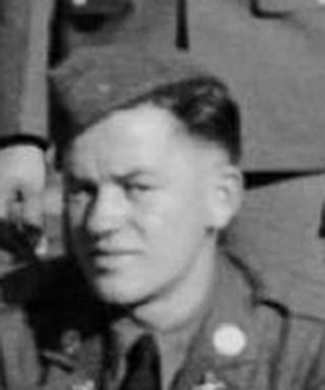 Everett Joseph Beerman was born on June 2, 1919. He enlisted in the Army on September 18, 1940. He was a member of Company B, 134th Infantry Regiment when they were staged at Camp Kilmer NJ just prior to leaving for the ETO. They sailed from NY on May 11 aboard the troop transport USS General A.E. Anderson and arrived at the port of Bristol, England on May 25, 1944. They billeted in Penzance, Cornwall, England until boarding the troop ship Javelin and sailing across the English Channel to France. Company B landed on Omaha Beach at 2:30 in the afternoon on July 5, 1944.
Pfc Everett J Beerman was killed in action near Mortain, France on August 12, 1944, while serving as a Scout in the 1st Platoon, Company B. He is buried at the Brittany American Cemetery in France.
Pfc Everett J Beerman, bottom row far left (kneeling)
Thanks to Kenneth L Beerman for these pictures.