134th Infantry Regiment Website

"All Hell Can't Stop Us"
Pfc. Arthur L Billman, Jr.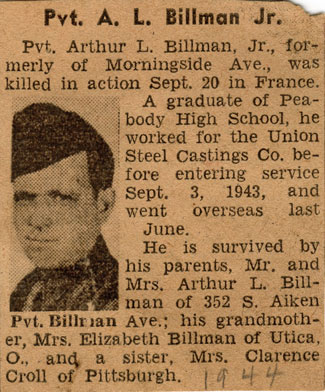 Company A - 134th Infantry Regiment
Pfc Arthur L. Billman, Jr. served as a Rifleman with Company A, 134th Infantry Regiment. He was killed in action on September 20, 1944 during the battle for Sugar Loaf Hill near Agincourt, just north of Nancy, France.
The letter below is dated August 30, just 21 days before his death. The envelope is dated September 30, 1944, so his family received it after his death.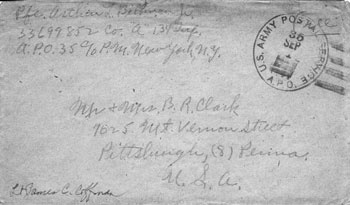 Arthur L. Billman, Jr. is buried at Penn Lincoln Memorial Park, North Huntington, PA
35th Infantry Division Memorial at Agincourt, France commemorating the Battle of Sugar Loaf Hill.
Thanks to Rob Clark for this information. His father was Arthur Billman's cousin.