134th Infantry Regiment Website

"All Hell Can't Stop Us"
Capt Byron T Blackburn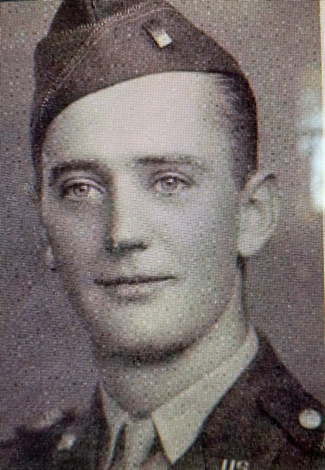 134th Infantry Regiment - Companies M, G and E
Byron Taylor Blackburn, son of Albert and Edith Blackburn, was born March 3, 1913 in Las Vegas, New Mexico. His family moved to Nebraska sometime between 1920 and 1923. According to Regimental personnel records, he was an Officer with the 134th Infantry Regiment prior to November 1, 1941. 1st Lt Blackburn was commander of the Mortar platoon, Company M, when they were stationed at Camp Kilmer NJ, in May 1944, just prior to leaving for the ETO. After arriving in Normandy, France he assumed command of Company G on July 15, 1944. He was transferred to Company E on September 16, 1944. Lt Blackburn was wounded in action November 11, 1944, when he suffered shrapnel wounds, but he remained on duty. He was promoted to Captain on Novermber 24, 1944. Captain Byron T Blackburn was killed in action on December 8, 1944 near Sarreguemines, France. He was awarded a Silver Star Medal for his actions during that battle. He is buried at Grand Island Cemetery, Grand Island, Nebraska.
Silver Star Medal (posthumous) Citation
Captain Byron T Blackburn, O-411756, Infantry, United States Army, for gallantry in action near * * *, France from 4 to 8 December 1944. Through the brilliant and forceful leadership Captain Blackburn, their commanding officer, Company E, 134th Infantry, made an important advance against the enemy from * * * to the city of * * * during the period mentioned. When the progress of the battalion was halted by enemy 20mm guns emplaced in the outskirts of * * *, Captain Blackburn found a route of advance by personal reconnaissance, maneuvered his men through an antitank trench and wooded terrain and directed their infiltration into the town. By the end of the day, the company had not only possession of many buildings and captured seven of the enemy, but it had succeeded in driving the Germans from that portion of * * * located on the western bank of the Saar River, in spite of extremely heavy enemy artillery fire. The following morning, Captain Blackburn and his men crossed the river and made their way into a forest which they were to clear of enemy troops, when the Germans launched a counterattack. Organizing his men into a coordinated fire unit which was able to withstand the enemy tank and infantry assault, Captain Blackburn moved his company, assuring himself that each man was taking maximum advantage of his position and uttered words of encouragement. His exemplary leadership is in accord with the best traditions of the military service and reflects credit upon his character as an officer. Entered military service from Nebraska.

General Orders No. 50, Headquarters 35th Infantry Division, 31 December 1944