134th Infantry Regiment Website

"All Hell Can't Stop Us"
Sgt James P Bridges
134th Infantry Regiment - Company D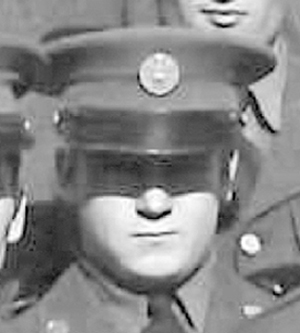 Picture is from Company D group photo taken December 24, 1940 in North Platte, Nebraska
James P Bridges, the son of Charles and Marguriete Bridges, was born in Wyoming on July 10, 1922. Sometime during his youth the family relocated to Nebraska where he attended North Platte High School. He enlisted in the service on December 23, 1940 as a member of the Nebraska National Guard. Sgt Bridges was a squad leader in the First Platoon, Company D, 134th Infantry Regiment. He landed on Omaha Beach in Normandy, France on July 5, 1944 and fought in the battle at St. Lo. The morning of his death, the 134th Infantry Regiment was in position in the vicinity of Torigni sur Vire, France and in contact with the enemy. An advance southward was begun at 0830 and continued throughout the day. Sgt James P Bridges was Killed in Action on August 1, 1944. He is buried at Normandy American Cemetery, Colleville-sur-Mer, France.
Thanks to Carol Halley of the North Platte, Nebraska School District for this picture of the memorial plaque.