134th Infantry Regiment Website

"All Hell Can't Stop Us"
Pfc Gordon L Brookshear
134th Infantry Regiment - Company A
Pfc Gordon Lyle Brookshear
Gordon L. Brookshear was inducted in the Army on August 5, 1943 at Ft. Oglethorpe, Georgia. After training he was assigned to Company A, 134th Infantry Regiment. He was with the Regiment on May 12 when they sailed from the Port of NY aboard the troopship SS General A.E. Anderson arriving in England on May 25, 1944. They were billeted at Penzance in Cornwall until July 2 when they departed by train for Plymouth, England. The next morning they boarded the troop ship SS Javelin for their trip across the English Channel to France. Company A landed on Omaha Beach at 4 PM on July 5, 1944.
Their first battle took place just a few days after they landed in France. It was at St. Lo were the Regiment suffered many casualties. After the fighting at St. Lo, they moved south-east and by the morning of August 1 they were in the vicinity of Torigni-sur-Vire. Their mission was to advance southward and cross the Vire River. The fighting began at 8:30 in the morning and continued throughout the day. Pfc Brookshear was wounded during this battle. After recuperating in a hospital from shrapnel wounds, he returned to duty October 4, 1944.
During October and November they continued to fight their way across France. The morning of December 13, 1944 they left Frauenberg, France with the mission of crossing the Blies River and capturing the town of Habkirchen, Germany on the other side of the river. Fighting raged most of the day. The bridge they were to use collapsed forcing them to use assault boats to cross the turbulent river. According to an eyewitness, the assault boat he was in capsized.
Pfc Gordon L Brookshear was killed in action December 13, 1944. He was 28 years old and left behind a wife and 2-year-old daughter. He is buried at the Pine Grove Presbyterian Church Cemetery in Greenback, TN.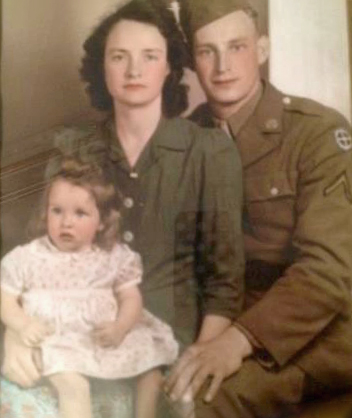 Pfc Gordon L Brookshear, his wife Eula B. and their daughter Doris Brookshear Trotter
Thanks to Deresa Trotter Eisaman for these photographs of her grandfather.