134th Infantry Regiment Website

"All Hell Can't Stop Us"
Pvt Walter D Brown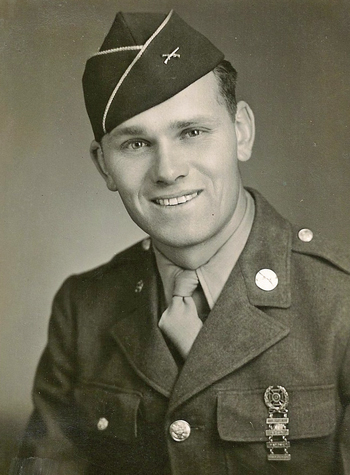 134th Infantry Regiment - Company L
Walter Dean Brown, son of Dewey Leroy and Alberta Pearl (Summers) Brown, was born June 24, 1921 in West Plains, Howell County, Missouri. He was 5'9" and weighed 129 pounds when he registered for the draft on February 15, 1942. At that time, he was working at the Coca Cola Company in Kansas City, Missouri. He was inducted into the Army September 18, 1943 at Fort Leavenworth, Kansas.
Pvt Walter D Brown joined Company L, 134th Infantry Regiment on August 9, 1944 from the 48th Replacement Battalion and served as a Rifleman (MOS 745). At the time he joined the Regiment, they were fighting off a major enemy counterattack in the vicinity of Mortain, France. Three days later, on August 12, 1944 he was reported missing in action. It was later confirmed that he had been wounded in action on that date. After recuperating from his wounds, he returned to duty with the Regiment on November 13, 1944. He was again wounded in action November 25, 1944 in the vicinity of Saint Jean Rohrbach, France. Pvt Walter D Brown was honorably discharged from the Army on August 27, 1945. He passed away August 11, 2006 in Lee's Summit, Missouri and is buried at Lee's Summit Historical Cemetery.
| | |
| --- | --- |
| | |
| Shorty and Walter Brown | Shorty and Walter Brown |
| | |
| Back row right, Walter Brown; Front row right, possibly Shorty (?); Other names unknown | Shorty with Walter's wife, Thelma |
Shorty was a very dear friend of Walter Brown. His actual name is unknown. He served in Company L, 134th Infantry with Walter Brown and was killed in action sometime during the period from August to November 1944. If you can identify Shorty, or any of the other unnamed soldiers in the group photo above, please contact the webmaster.
Thanks to Ramey Chisum for the photos and biography. She is Pvt Walter D Brown's granddaughter.