134th Infantry Regiment Website

"All Hell Can't Stop Us"
1st Lt Lawrence D Canatsey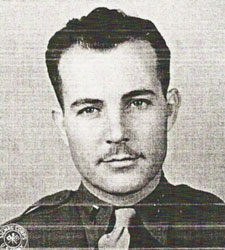 134th Infantry Regiment - Company G
Lawrence Dural Canatsey, the son of Merle and Lucille Canatsey, was born in Humbolt, Kansas on May 4, 1914. He moved to Texas for several years before moving to Los Angeles sometime between 1935 and 1938. He registered for the draft on October 16, 1940. At the time he was working for the Los Angeles Railway Company. His draft record lists him as 5' 7' tall, with brown hair, blue eyes and a scar on his left ear. He was inducted into the Army at Los Angeles on March 29, 1941. He married Kathleen Sheehan in Arizona on July 4, 1941. He met her while working as a Streetcar Motor Man in Los Angeles.
1st Lt Canatsey, commander of Company G, 134th Infantry Regiment, landed on Omaha Beach in Normandy, France on July 5, 1944. He was Killed in Action July 15, 1944 during the battle for St Lo, France. He was awarded a Silver Star Medal for his actions that day.
Silver Star Medal (posthumous) Citation
First Lieutenant Lawrence D Canatsey, O1303459, Infantry, United States Army, for gallantry in action near St Lo, Normandy, France on 15 July 1944. In the initial action which began the operation against St Lo, Lieutenant Canatsey was in command of Company G, 134th Infantry Regiment. As his company began to move forward, Lieutenant Canatsey, who was at the head of his men, received a severe leg wound. Despite his pain, he refused immediate evacuation, and from where he lay upon the ground, he shouted words of encouragement to his men, urging them forward. He called his executive officer to him and oriented the latter upon the situation. Only after having assured himself that his organization would not be leaderless, did Lieutenant Canatsey consent to evacuation. While en route to the aid station, the vehicle in which he rode was subjected to enemy fire and Lieutenant Canatsey was killed. The gallant actions of Lieutenant Canatsey not only proved an inspiration to his men, but are in accord with the traditions of the military service. Entered military service from California.

General Orders No. 58, Headquarters 35th Infantry Division, 26 December 1944
1st Lieutenant Lawrence Dural Canatsey is buried at Arlington National Cemetery, Arlington, Virginia