134th Infantry Regiment Website

"All Hell Can't Stop Us"
1st Sgt Thomas R Coates
134th Infantry Regiment - Company C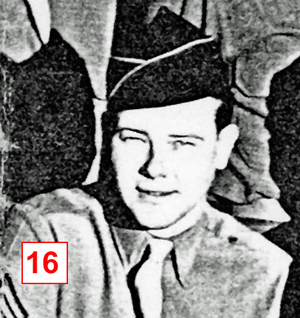 Picture is from a Company C group photo taken at St Louis Obispo, California in the Sprimg of 1943
Thomas Robert Coates, the son of Fred and Elizabeth Coates, was born August 2, 1920. He enlisted at Beatrice, Nebraska on December 23, 1940. He was a member of Headquarters Platoon, Company C, 134th Infantry Regiment and landed on Omaha Beach in Normandy on July 5, 1944. After fighting in the battle for St Lo, the Regiment continued to attack southward. He was killed in action in the vicinity of Torigini Sur Vire, France on July 31, 1944, just 2 days short of his 24th birthday. He was survived by his parents, wife Lorraine and 2-year-old son, Tommy. 1st Sgt Thomas R Coates is buried at Wyuka Cemetery in Nebraska City, Nebraska.
Silver Star Medal (posthumous) Citation
First Sergeant Thomas R Coates, 20721896, Infantry, United States Army, for gallantry in action in the vicinity of * * *, France, 31 July 1944. When the advance of his company was stopped by intense enemy machine gun, mortar and artillery fire, Sergeant Coates, voluntarily and with disregard for heavy concentrations of fire which included that of numerous snipers, moved along the front lines, checking the firing positions and fields of fire of his men, in order to insure maximum results. While so engaged, he was killed by enemy sniper fire. The courageous zeal of Sergeant Coates, and his dauntless determination that the mission of his unit be accomplished, were immeasurably responsible for the success of the operation. Entered military service from Nebraska.

General Orders No. 27, Headquarters 35th Infantry Division, 29 August 1944