134th Infantry Regiment Website

"All Hell Can't Stop Us"
2nd Lt Halley K Dickey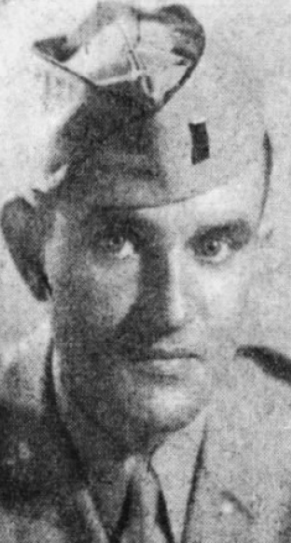 134th Infantry Regiment - Company M
Halley Knott Dickey, Jr, son of Halley Knott and Maria Louise Anna Paula (Giesecke) Dickey, was born on July 19, 1920 in Kansas City, Missouri. He registered for the draft on February 14, 1942. His draft registration lists him as 6' 0" tall, weighing 165 pounds with blue eyes, brown hair, and a light complexion. He was inducted into the Army on May 12, 1942 at Jefferson Barracks, Missouri. He trained at Fort Benning, Georgia and was stationed for a year at Fort Monmouth, New Jersey. He married Lillyan Smith in August 1943.
2nd Lt Halley K Dickey, Jr was the commander of Second Platoon, Company M. First reported missing, he was Killed in Action July 17, 1944 near St Lo, France. He was awarded a Silver Medal for gallantry during that battle. He is buried at Linn Cemetery, Wentzville, Missouri.
Silver Star Medal (posthumous) Citation
Second Lieutenant Halley K Dickey, Jr O1310988, Infantry, United States Army, for gallantry in action near St Lo, Normandy, France, 17 July 1944. Lieutenant Dickey was a platoon leader in Company M, 134th Infantry, participating in the battalion attack on * * *. He was wounded early in the action but refused evacuation and continued to lead his platoon in a 500 yard advance through heavy concentrations of enemy automatic weapons and artillery fire. After digging in and setting up a holding position in an area strewn with enemy mines and booby traps, Lieutenant Dickey noticed a wounded soldier lying in an uncovered position without protection from enemy fire. He crawled to the wounded man and proceeded to drag him to safety. While so engaged, he was killed by an anti-personnel mine; the wounded soldier escaped further injury. The courageous leadership of Lieutenant Dickey, his determination to continue with his mission without regard to his personal safety, and his ultimate sacrifice of his life in saving that of another soldier, reflects the highest credit upon him and upon the military service. Entered military service from New Jersey.

General Orders No. 10, Headquarters 35th Infantry Division, 12 August 1944