134th Infantry Regiment Website

"All Hell Can't Stop Us"
Pfc Joseph M Ferrell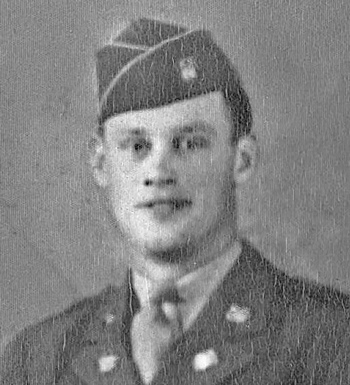 134th Infantry Regiment - Company B
Joseph Malcolm "Buck" Ferrell, son of Braze Neil and Betty Elizabeth (Bell) Ferrell, was born March 3, 1922 in Kenston, North Carolina. He registered for the draft on June 30, 1942 and was inducted into military service on January 25, 1943 at Fort Bragg, North Carolina. His draft record lists him as 5' 8" tall, weighing 200 pounds, with grey eyes, brown hair, and a ruddy complexion. He married Hazel Marie Meadows on February 25, 1944.
Pfc Ferrell served as a Scout in the First Platoon, Company B. After fighting in the battle for St Lo, France, the 134th Infantry Regiment attacked southward. The morning of August 1, 1944 the Regiment was in position in the vicinity of Torigni Sur Vire facing south and in contact with the enemy. An advance southward was begun at 0830 and continued throughout the day. The Regimental objective was the Vire River.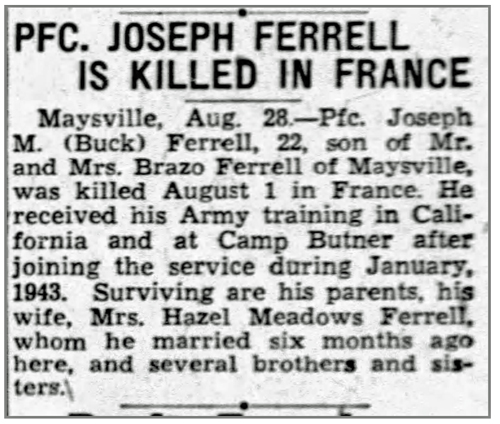 Pfc. Joseph M Ferrell was Killed in Action on August 1, 1944 and is buried at New Bern National Cemetery, New Bern, North Carolina.