134th Infantry Regiment Website

"All Hell Can't Stop Us"
T/Sgt Robert L. Fowler
Company L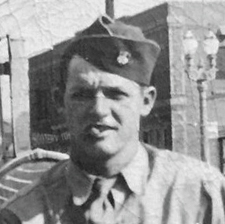 | | |
| --- | --- |
| | |
| Robert L Fowler | Robert L Fowler |
| | |
| Training P.J.s - Identity of soldeirs unknown | Robert L Fowler |
Bronze Star Medal Citation
Technical Sergeant Robert L Fowler, 20723530 (then staff sergeant), Infantry, United States Army, for heroic service in connection with military operations against an enemy of the United States, in the St. Lo sector, Normandy, France, on 18 July 1944. Sergeant Fowler, a platoon guide, assumed command of his platoon after it had suffered heavy casualties in an attack against enemy strong points near St. Lo, France. He quickly reorganized the unit and coordinated an effective fire fight, continuously exposed himself to aimed enemy fire to insure that his troops were operating with maximum efficiency, and succeeded in repulsing a strong enemy counterattack, thereby enabling his company to resume its advance. Entered military service from Nebraska.
General Orders 38, Headquarters 35th Infantry Division, 29 September 1944

Purple Heart Medal
Wounded in action July 27, 1944
Robert "Bob" Fowler was born on April 24, 1921, in Tarkio, Missouri. He was the oldest son of Nelson Fowler and Hazel Campbell Fowler. Five of their children survived early childhood, four others did not. They moved to Omaha, Nebraska, in 1934. Bob graduated from Central High School in 1938. He joined the National Guard at age 16, despite the requirement to be 18.
Bob married Evelyn Jamison in 1941 after his unit was mobilized to fight in France. They had one child before he was sent overseas. He landed on Omaha Beach on July 2nd, 1944 and served during intense, active engagement of the enemy in and around St. Lo, France until he was wounded on July 27th. Four months later, he returned to active duty as a combat instructor, finally coming home to the States in July, 1945. He served in the 134th Regiment and served for 18 more years. He received a Bronze Star for his courage in battle at St. Lo and a Purple Heart for his injuries. The bullet he was shot with was never removed and he carried it in his hip the rest of his life.
When not serving in the National Guard, Bob worked as a salesman and rural industrial engineer at Nicholson Supply Company. He and his wife had eight children, five girls and three boys. He loved automobiles and would buy one that caught his fancy but was known to trade it in for a new one almost yearly. In retirement, he drove veterans to their medical appointments and never failed to donate blood every 6-8 weeks.
He was proud of his fourteen grandchildren and was able to meet all of them before he passed in 2006. He is survived by his five daughters, fourteen grandchildren, and twelve great-grandchildren. This year Bob was honored by the Nebraska National Guard an award for outstanding non-commissioned officers. To mark the occasion of this award, his family has made his memoir, Something We Had To Do, available on Amazon. It can be found through a title search or on the author page of his grandson, Ted Neill, who edited the memoir or through the link below.
https://www.amazon.com/Something-We-Had-Do-Memoir/dp/1720856028/ref=asap_bc?ie=UTF8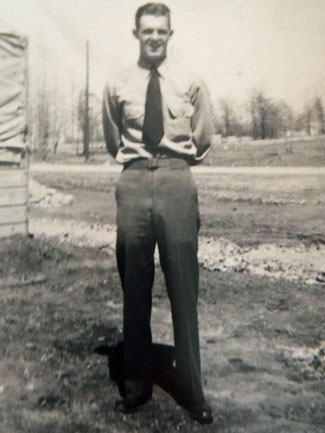 Robert L Fowler - Wedding Day
Thanks to Robert Fowler's grandson Ted Neill for the pictures and information about his grandfather.
Robert Fowler was Platoon Sergeant of 2nd Platoon, Company L, 134th Infantry Regiment. He was interviewed in 1995 by Charles R. Gentile, nephew of Staff Sergeant Charles Paul Gentile, Company L, 134th Infantry Regiment, who was killed in action July 16, 1944, near Emelie, Normandy, France. In this video he discusses his pre-war service in the Nebraska National Guard, training and preparations for combat in Europe, and the fight at St. Lo, France.
This video is from the collection of the Nebraska National Guard Museum, Seward, Nebraska. Special thanks to Mr. Nicholas Tuma.