134th Infantry Regiment Website

"All Hell Can't Stop Us"
Sgt. Ralph F Greeley
Company D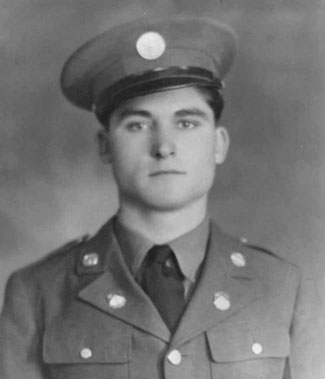 Recipient of the Distinguished Service Cross
Agincourt is a small town located just northeast of Nancy, France. Its key terrain feature is the Paine de Sucre or Sugar Loaf Hill, which dominates the entire valley. From September 16 - 21, 1944 the 35th Infantry Division fought the Battle of Sugar Loaf against heavy enemy resistance. Sgt. Ralph F. Greeley was awarded the Distinguished Service Cross for extraordinary heroism during that battle. The following is an eyewitness account of Sgt. Greeley's actions:
"On 19 Sept 44, the 1st Bn, 134th Infantry, supported by its heavy weapons company, was engaged against the enemy in the vicinity of Agincourt, France, moving in against enemy installations located on Pain de Sucre Hill. The attacking forces ran into intense enemy 88mm, mortar and small arms fire; the ground was open and no cover available. Casualties were heavy even though an advance of only approximately 500 yards had been made. By the time the bottom of the hill was reached, it was impossible to advance because of the heavy rain of fire falling in the area. Two rifle platoons swung to the right seeking another route up the hill. As they got halfway up and proceeded to cross open ground, the Germans opened up with machine gun and direct fire from two 88's mounted on 2 Tiger Tanks located in positions of defilade. Both the attacking riflemen and supporting machine gunners became disorganized; and, after direct 88 fire had knocked out 7 men with one shot, killing 3 and wounding 4, a withdrawal was made to seek cover".
"I noticed Sgt. Greeley, a heavy machine gun section sergeant in Company D, grab a heavy machine gun which was mounted on a tripod, the number 1 and 2 gunners having been wounded, and completely disregarding his own safety, he pulled it forward 25 yards and from this strategic position put the gun into action himself, spraying the enemy tanks in the vicinity around him. The effectiveness of this fire caused the tanks to button up the turrets thereby completely eliminating enemy observation of our forces from the tanks. I saw Sgt. Greeley continue firing from his position until the attacking forces had the opportunity to withdraw to a safer position. The enemy tanks were still firing but no longer effectively, due to their buttoned condition. Then one shell lit about 5 yards from Sgt. Greeley wounding him and knocking out his machine gun. He could not be reached until late that night under cover of darkness. He was then evacuated but died of wounds received a few days later. His supreme sacrifice was undoubtedly responsible for the saving of many of his comrades".
On September 15, 2015 the town of Agincourt, France dedicated a memorial to the sixty-nine 35th Infantry Division soldiers who were killed in action or died of wounds during the Battle of Sugar Loaf Hill. Sgt. Ralph F. Greeley, Company D, 134th Infantry Regiment is buried at Lorraine American Cemetery.