134th Infantry Regiment Website

"All Hell Can't Stop Us"
Pvt Foster C. "Clinton" Griffith
134th Infantry Regiment - Company A
Foster C. Griffith, known to his family as Clinton, joined the 134th Infantry Regiment on December 21, 1944 when Company A was at Ernestviller, France just southwest of Sarreguemines near the German border. Shortly before his arrival the 35th Infantry Division had launched a large scale offensive and established a bridgehead into Germany during which they sustained many casualties. The 35th Division moved to Metz, France on December 23, 1944 where they spent Christmas before being sent to the Ardennes to fight in the Battle of the Bulge.
On Christmas night the order to move was received and within 24 hours of leaving Metz they were in the thick of battle near Bastogne, Belgium. According to the 134th Infantry Regiment Unit History, their participation in the Battle of the Bulge cost the Regiment 1,449 battle casualties including 140 killed, 1,011 wounded, and 298 missing. The Regiment was awarded a Presidential Unit Citation for heroic action in the Ardennes for the period from December 28, 1944 to January 16, 1945.
Pvt. Griffith was killed in action by small arms fire on Friday, January 12, 1945. At the time, his unit was attacking and clearing a wooded area about a mile and a half from Marvie, Belgium. He is buried at Luxembourg American Cemetery, Plot E, Row 2, Grave 38.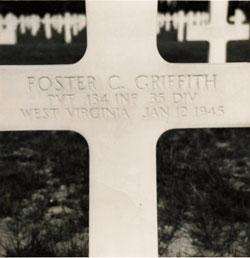 Thanks to Merlin Means for the photos and newspaper article. His mother is Clinton Griffith's cousin.