134th Infantry Regiment Website

"All Hell Can't Stop Us"
Sgt Wendell F. "Bud" Hamman
Company C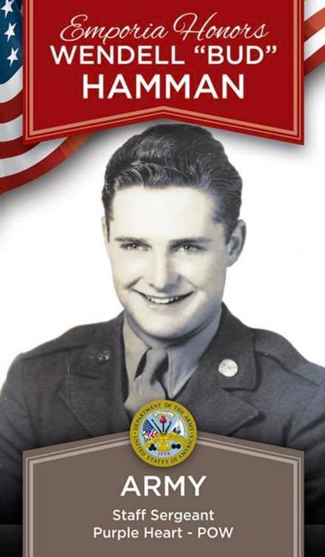 Wendell F. "Bud" Hamman enlisted in the Army on November 17, 1943. A resident of Coffey County, Kansas, he was 20 years old and married at the time of his enlistment. He joined Company C, 134th Infantry Regiment on July 21, 1944 at St. Lo, France.
The morning of January 4, 1945, Company C led an attack from the town of Marvie, Belgium toward Lutrebois. The weather was extremely cold and snowy with poor visibility. Company C overran its objective, was cut off from the rest of the Regiment and surrounded by German troops. Sgt. Hamman was taken prisoner on January 5, 1945. He was first held at Stalag 12A in Limburg, Germany before being sent to Stalag 9B near Bad Orb where he remained a POW until the camp was liberated in April 1945.
Sgt. Wendell F. "Bud" Hamman passed way May 22, 1990 and is buried at Sacred Heart Cemetery in Emporia, Kansas.
Thanks to Kerry Hamman for this information and photo of his uncle.