134th Infantry Regiment Website

"All Hell Can't Stop Us"
Sgt Clifford R Johnson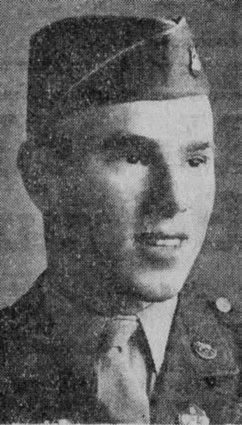 134th Infantry Regiment - Company C
Clifford R Johnson was born September 16, 1920 in Beatrice, Nebraska. He was a member of the Nebraska National Guard and was inducted into the Army on December 23, 1940. He trained at Camp Robinson, Arkansas and was stationed at Fort Ord, California, Fort Rucker, Alabama, and Camp Butner, North Carolina. He served as a squad leader in Company C, 134th Infantry Regiment.
The 134th Infantry sailed from the Port of New York to England on May 11, 1944 aboard the Navy transport USS General A E Anderson. They were billeted in Cornwall, England from May 26 until July 1 before moving to staging areas and boarding ships to travel across the English Channel to France. Company C landed on Omaha Beach July 5, 1944. Sgt Johnson was wounded in action during the battle for St Lo, France, suffering bayonet wounds to his arm and face. He returned to duty October 3, 1944 after recuperating from his wounds at a hospital in England.
Sgt Clifford R Johnson was Killed in Action on December 12, 1944. At the time of his death the 35th Infantry Division, including the 134th Infantry, was participating in the winter drive into Lorraine, France. As Company C was crossing the Blies River his assault boat struck an obstacle in the river and capsized due to the turbulent water. He drowned in the vicinity of Habkirchen, Germany on the French-German border. His body was never recovered. He is memorialized on the Tablets of the Missing at Lorraine American Cemetery, Saint-Avold, France.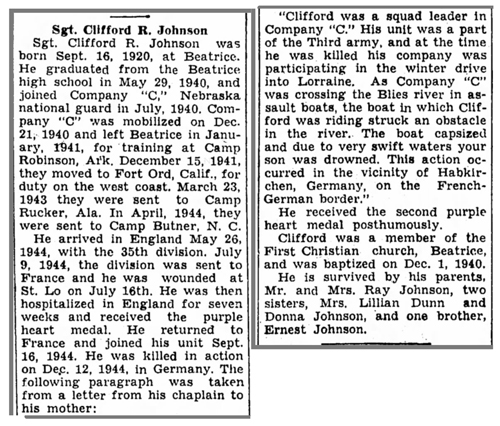 The picture of Sgt Johnson is from the collection of S/Sgt Alvin L. Lampe, Company C, 134th Infantry Regiment. Thanks to his daughter Lynn Lampe Salsbury for this picture from a Beatrice Sun, Nebraska newspaper clipping.