134th Infantry Regiment Website

"All Hell Can't Stop Us"
S/Sgt Ray E Larimore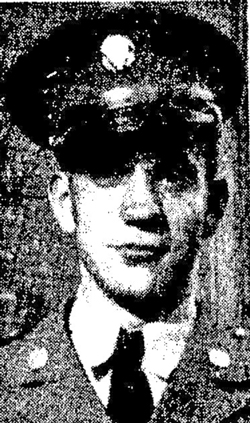 134th Infantry Regiment - Company C and Service Company
Ray E Larimore, son of LeRoy R and Ethel Pearl (Wierman) Larimore, was born in Beatrice, Nebraska on May 16, 1919. He married Alvina Elizabeth Schneider on November 3, 1939. The couple had a son, Dennis Ray, born January 27, 1943. He was a member of the Nebraska National Guard and landed on Omaha Beach July 5, 1944 as a member of the First Platoon, Company C, 134th Infantry Regiment. He was wounded in action July 15 during the battle for St Lo, France and returned to duty August 31, 1944. He was wounded again on September 12 and returned to duty September 18, 1944. S/Sgt Ray E Larimore was attached to Service Company, 134th Infantry Regiment on October 19 and he was Killed in Action by a land mine November 16, 1944. He is buried at Odell Cemetery, Odell, Nebraska.