134th Infantry Regiment Website

"All Hell Can't Stop Us"
Pfc George A Meyers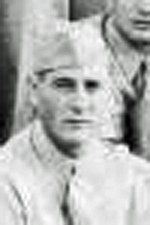 134th Infantry Regiment - Company B
George Albert Meyers, son of Charles and Mary Meyers, was born in Denver, Colorado on January 17, 1914. He registered for the draft October 16, 1940. His draft record lists him as 6' tall, weighing 144 pounds, with hazel eyes, brown hair and a light complexion. He was inducted into the Army March 6, 1942. According to his enlistment, he was a widower with no dependents at the time of his induction. Pfc George A Meyers served as a Messenger in Headquarters Platoon, Company B, 134th Infantry Regiment. He was Killed in Action July 20, 1944 during the battle for St Lo, France. He was awarded a Silver Star Medal for gallantry in action during that battle. He is buried at Normandy American Cemetery, Colleville-sur-Mer, France.
Silver Star Medal Citation (posthumous)
Private First Class George A Meyers 38084026, Infantry, United States Army, for gallantry in action against the enemy on 16 - 17 July 1944 near St Lo Normandy, France. Private First Class Meyers, a company runner, volunteered to repair battalion communication wire. His organization was being subjected to heavy enemy small arms, mortar and artillery fire, and the damaged wire was placed in open fields with little protection from enemy fire. Without regard for his personal safety, Private First Class Meyers, throughout the period, did maintain wire repair in his unit. The tenacity of purpose and courageous actions of Private First Class Meyers in the performance of duties above those required of him, facilitated coordination between his company and other units, resulting in the eventual success of his battalion in this engagement. Entered military service from Colorado.
General Orders No. 13, Headquarters 35th Infantry Division, 4 August 1944