134th Infantry Regiment Website

"All Hell Can't Stop Us"
S/Sgt Estile I Owens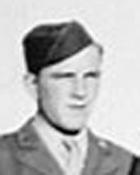 134th Infantry Regiment - Company L
Estile Ira Owens, son of James Wiley and Beadie Cedella (Hawks) Owens was born January 15, 1920 in Battle Creek, Nebraska. He registered for the draft on February 5, 1941. He served as a Squad Leader in Weapons Platoon, Company L, 134th Infantry Regiment. He was wounded by a shell blast on July 15 during the battle for St Lo, France and returned to duty August 19, 1944. He was promoted from Sergeant to Staff Sergeant on August 29, 1944. S/Sgt Estile I Owens was Killed in Action north of Nancy, France September 28, 1944. He is buried at Lorraine American Cemetery, Saint-Avold, France.