134th Infantry Regiment Website

"All Hell Can't Stop Us"
Pfc Grady J D Pike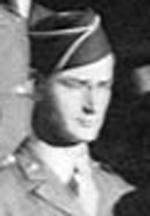 134th Infantry Regiment - Company L
Grady John Derwood Pike, son of John Leland and Grace (Breeding) Pike, was born in Bonham, Texas April 1, 1918. He married Agnes Fay Bowman on March 9, 1940. He registered for the draft October 19, 1940. At the time he was working at Brenham Cotton Mill in Brenham, Texas. His draft record lists him as 6' 1" tall, weighing 141 pounds, with grey eyes, brown hair, and a light complexion. He was inducted into the Army in April 1942. Pfc Grady J D Pike served as a rifleman in the First Platoon, Company L, 134th Infantry Regiment. He was Killed in Action July 17, 1944 during the battle for St Lo, France. He is buried at Terrace Cemetery in Post. Texas.