134th Infantry Regiment Website

"All Hell Can't Stop Us"
Capt William E Powell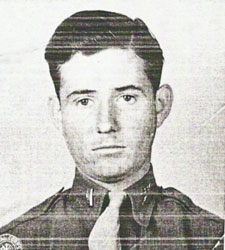 134th Infantry Regiment - Company E
Captain William Eugene Powell served in Company E, 134th Infantry Regiment. He was wounded in action just south of St Lo, France July 30, 1944 but remained on duty. He was awarded a Bronze Star Medal for heroic service in the vicinity of Mortain, France on August 8 and on August 26, 1944 he led a patrol that captured 45 enemy prisoners in the vicinity of Joigny, France. He was promoted from 1st Lieutenant to Captain on September 9 and was Killed in Action September 16, 1944 while securing a bridgehead across the Meurthe River in the vicinity of Nancy, France. Capt William E Powell is buried at Jefferson Barracks National Cemetery in St Louis, Missouri.
Bronze Star Medal Citation
Captain William E Powell, O1303943 (then first lieutenant), Infantry, United States Army, for heroic service in connection with military operations against an enemy of the United States in the vicinity of * * * , France, 8 August 1944. Captain Powell's company spear-headed a battalion assault upon enemy positions near * * * in the Mortain sector, forcing the enemy to withdraw. Captain Powell crawled forward through enemy small arms fire to ascertain the new enemy positions, then, coordinating his action with adjacent units, launched an immediate attack which succeeded in driving the enemy back another four hundred yards to previously prepared emplacements. Accompanied by a radio operator, he again crawled forward to within seventy-five yards of the enemy, and directed artillery fire on the enemy strong points, forcing a further withdrawal. The skillful and aggressive leadership ability, tactical initiative and disregard for personal safety on the part of Captain Powell, were immeasurably responsible for the steady advance of the battalion to its objective. Entered military service from Alabama.
General Orders No. 35, Headquarters 35th Infantry Division, 22 September 1944