134th Infantry Regiment Website

"All Hell Can't Stop Us"
S/Sgt Richard Saleker
Company A
Richard Saleker, his sister Mary and Brother Walter - December 1969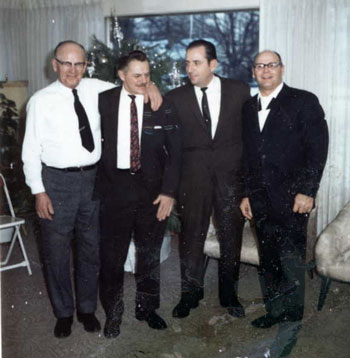 left to right: Jack (Richard's uncle), Richard Saleker, Al Delmonte and Walter (Saleker) Schultz - December 1969
Walter (Saleker) Schultz, Kurt Schutlz, and Richard Saleker

(1947 - 1949?)

Kurt Schultz and Richard Saleker (1947 - 1949?)
Richard Saleker was born 15 September 1921 in Cleveland, Ohio to Gustave L. Saleker and Julia Dixon. He was one of four children: Mary Kelleman, Henry Edward Saleker, and Walter Schultz (Wally was adopted by his aunt, thus the different last name.) He worked in several different industries in his lifetime but mostly as a rigger before his death on the 18th of June 1993 in Johnson City, TN. He was married three times - first to Ernestine M. Digeronimo, then to Ellen Gordon and lastly to Betty L. Parker. He left behind several children when he passed in 1993.
S/Sgt Richard Saleker joined Company A, 134th Infantry Regiment on 16 January 1945 and served with the Regiment for the remainder of the war.
Thanks to Owen M. McCafferty II for these photos and information about his great-uncle Richard Saleker. He asks that anyone who may have met Richard Saleker or have memories or photographs of him, please contact him at owenmmccaffertyii@gmail.com or by phone at 646-413-0835