134th Infantry Regiment Website

"All Hell Can't Stop Us"
Sgt John H Shively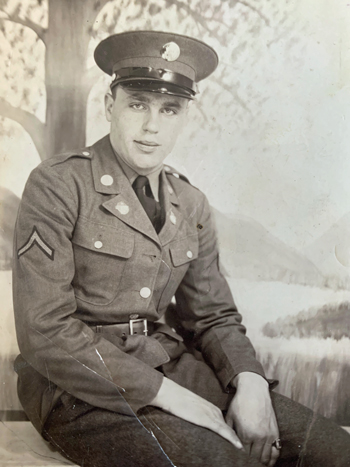 134th Infantry Regiment - HQ Company 1st Battalion
John Henry Shively, son of Alan Byron and Cleo (Bohannen/Whitney) Shively, was born January 7, 1921 in Central City, Nebraska. His family relocated to North Platte, Nebraska where he attended school. He served in the Nebraska National Guard and was inducted into Federal service at North Platte on December 23, 1940. He served in Headquarters Company 1st Battalion, 134th Infantry Regiment, 35th Infantry Division. He was promoted from Private First Class to Corporal on October 2, 1944 and was again promoted to Sergeant on January 5, 1945. That same day he was seriously wounded in action while attacking south from Marvie toward Lutrebois, Belgium, just south of Bastogne. Sergeant John H Shively died of his wounds January 5, 1945 and is buried at Fort McPherson National Cemetery, Maxwell, Nebraska.

The Sutherland Courier, Sutherland, Nebraska, February 1, 1945