134th Infantry Regiment Website

"All Hell Can't Stop Us"
Sgt Leonard R Thompson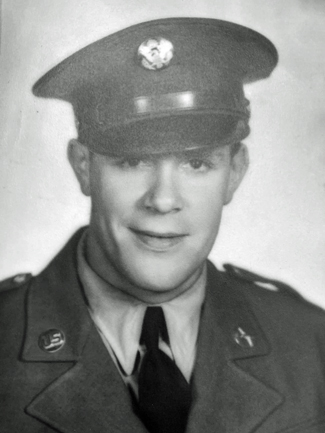 134th Infantry Regiment - Company I
Leonard Russell Thompson, son of Leonard and Isabell Thompson, was born in Sackville, New Brunswick, Canada on July 19,1918. His family relocated to the United States in September 1923. He registered for the draft October 16, 1940. At that time, he was 22 years old and worked at the Leonard and Baker Stove Foundry in Taunton, Massachusetts. He was inducted into the U.S. Army February 23, 1942 at Fort Devens, Massachusetts. He became a naturalized U.S. citizen in South Carolina on September 23, 1942. At that time, he was a Private in the 33rd Training Battalion at Camp Croft, South Carolina.
Sgt Leonard R Thompson served as a Squad Leader in the Third Platoon, Company I, 134th Infantry Regiment. He was killed in action the day before his 26th birthday on July 18, 1944 during the battle for St Lo, France. He is buried at Mayflower Hill Cemetery, Taunton, Massachusetts.
Thanks to James Thompson for this photograph of his father. He was only a year old when his father died.