134th Infantry Regiment Website

"All Hell Can't Stop Us"
S/Sgt George J Tiedje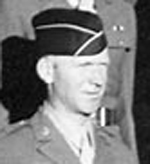 134th Infantry Regiment - Company L
George John Tiedje, son of Herman and Mathilde (Henrich) Tiedje. was born March 20, 1912 in Bennigton, Nebraska. He was inducted into the Army on February 13, 1941. He served as a Squad Leader in Company L, 134th Infantry Regiment, 35th Infantry Division. He was seriously wounded in action on July 15, 1944 during the battle for St Lo, France. He was awarded a Bronze Star Medal for heroic action that day. S/Sgt George J Tiedje died of his wounds July 29, 1944 and is buried at German Cemetery, Bennington, Nebraska.
Bronze Star Medal Citation
Staff Sergeant George J Tiedje, 37034244, Infantry, United States Army, for heroic achievement in connection with military operations against an enemy of the United States on 15 July 1944, near St Lo, Normandy, France. Staff Sergeant Tiedje was acting in the capacity of squad leader. During the period that his platoon was moving into position for the purpose of attack, it was constantly harassed by the fire of numerous snipers, in addition to being subjected to heavy machine gun, mortar and artillery fire. He, of his own volition, advanced to a position in the open, voluntarily exposing himself to enemy fire, in a measure drawing it to himself and away from the platoon. Staff Sergeant Tiedje was actively engaged in firing at a sniper when he was wounded by enemy fire. The unselfish loyalty of Staff Sergeant Tiedje to his comrades and his actions without regard for personal safety, facilitated in a great measure the advance of his platoon against the enemy and contributed materially to the final success of his organization in this action. Entered military service from Nebraska.
General Orders No 15, Headquarters 35th Infantry Division, 6 August 1944