134th Infantry Regiment Website

"All Hell Can't Stop Us"
Pfc Elmer L Tiedke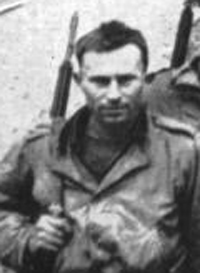 134th Infantry Regiment - Company L
Elmer Leo Tiedtke, son of William Fred and Emelia "Emma" (Pleksnies) Tiedtke, was born March 5, 1916 in Madison County, Nebraska. He was an Automatic Rifleman in the Third Platoon, Company L, 134th Infantry Regiment. He was wounded in action July 18, 1944 during the battle for St Lo, France and returned to duty October 7, 1944. Pfc Elmer L Tiedtke was killed in action November 17, 1944 in the vicinity of Morhange, France. He is buried at Lorraine American Cemetery, Saint-Avold, France.
Battle Creek Enterprise, Battle Creek, Nebraska,

August 17, 1944

Battle Creek Enterprise, Battle Creek, Nebraska,

November 30, 1944