134th Infantry Regiment Website

"All Hell Can't Stop Us"
Pvt Daniel E Walton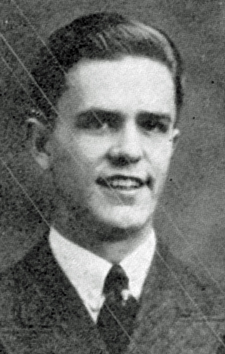 Mount Vernon High School, 1938
134th Infantry Regiment - Company K
Daniel E Walton, son of Edward Jacob and Mary Caroline (Snow) Walton, was born March 24, 1920 in Mount Vernon, Ohio. He attended Mount Vernon High School, graduating in 1938. He married Delores Loraine Dugan December 9, 1940. The couple had a son, William Gary Walton, born June 6, who passed away the following month on July 19, 1941. He registered for the draft July 1, 1941. At the time he worked as a salesman for the Coca Cola Bottling Company. He was inducted into the Army December 8, 1943 at Columbus, Ohio.
Pvt Daniel E Walton joined Company K, 134th Infantry Regiment on August 13, 1944 from the 48th Replacement Battalion and served as a Rifleman. He was killed in action September 30, 1944 in the vicinity of the Gremecey Forest, southeast of Metz, France when an enemy platoon infiltrated behind Company K's lines. He was hit by machine gun fire while defending the command post. He is buried at Mound View Cemetery, Mount Vernon, Ohio.

Thanks to
Pam Thomsen for this picture. She is the granddaughter of Pfc. John Pergolizzi, 60th Combat Engineers Combat Battalion, 35th Infantry Division who was killed in action October 10, 1944.