134th Infantry Regiment Website

"All Hell Can't Stop Us"
Pfc Harry R Weasner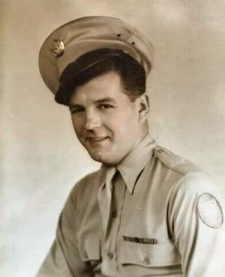 134th Infantry Regiment - Company I
Harry Robert Weasner was born February 25, 1917 in Williamsport, Pennsylvania. He registered for the draft October 16, 1940. At that time he was working for the International Furniture Company in Montoursville, Pennsylvania. He was inducted into the Army October 17, 1942 at Harrisburg, Pennsylvania. He departed for the ETO in June and joined Company I, 134th Infantry on July 20, 1944 while the Regiment was in the vicinity of St Lo, France and served as a Messenger. He was killed in action August 10, 1944 in the vicinity of Mortain, France.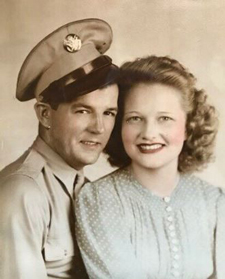 Harry and Marion Weasner
According to a condolence letter sent to his wife Marion, ". . . his unit was a part of the First United States Army which was involved in stopping German counter-attacks near Mortain, France. Harry was struck and killed instantly by artillery fire as his company was holding a defensive position in that vicinity." His daughter (name unknown) was born October 9, 1944, two months after her father's death. Pfc Harry R Weasner is buried at Williamsport Cemetery, Williamsport, Pennsylvania.
Williamsport Sun Gazette - October 10, 1944
Thanks to
Pam Thomsen for this picture. She is the granddaughter of Pfc. John Pergolizzi, 60th Combat Engineers Combat Battalion, 35th Infantry Division who was killed in action October 10, 1944.