134th Infantry Regiment Website

"All Hell Can't Stop Us"
S/Sgt Kenneth D Whale
134th Infantry Regiment - Anti-Tank Company
Kenneth Drummond Whale, son of Edward Gribbin and Lola (Drummond) Whale, was born April 29, 1911 in Decatur, Nebraska. He married Vera Loretta Guill December 19, 1932 and the couple had one child, a son Eldon Leon Whale born in 1933. He registered for the draft October 16, 1940 and was inducted into the Army in February, 1941. He was assigned to the 134th Infantry and was stationed at Camp Robinson, Arkansas, San Luis Obispo, California, Camp Rucker, Alabama, and Camp Butner, North Carolina before departing for the ETO in May 1944.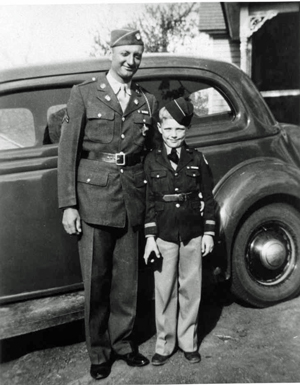 S/Sgt Kenneth D Whale and son Eldon
S/Sgt Kenneth D Whale served as Squad Leader in the Second Platoon, Anti-Tank Company, 134th Infantry Regiment. On September 30, 1944 he and several other men of the Second Platoon were going up a trail near the Gremecey Forest in France to investigate some small arms fire. They were attacked by an enemy patrol that had infiltrated behind American lines and he was killed instantly by machine gun fire. He is buried at Lyons Cemetery, Lyons, Nebraska.