134th Infantry Regiment Website

"All Hell Can't Stop Us"
Pfc William E Wiecking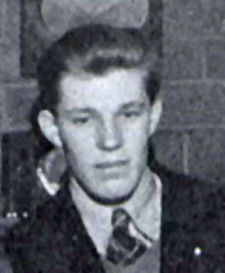 Ohio State University - 1943
134th Infantry Regiment - Company E
William Ernst Wiecking, son of Wilbur Ernst and Asbjorg "Audrey" Wiecking, was born July 12, 1924 in Bluffton, Indiana. He registered for the draft December 12, 1942. At the time he was a student at Ohio State University in Columbus, Ohio. He was inducted into the Army June 7, 1943 and joined Company E, 134th Infantry Regiment from the 38th Replacement Battalion on 9/24/1944. He was killed in action November 13, 1944 in the vicinity of Achain, France. He was awarded a Silver Star Medal for gallantry in action during the battle in which he died. Pfc William E Wiecking is buried at Elm Grove Cemetery, Bluffton, Indiana.
Silver Star Medal (posthumous)
Private First Class William E Wiecking, 35064341, Infantry, United States Army, for gallantry in action near Achain, France on 13 November 1944. While moving toward strongly defended enemy positions on a hill near Achain, Company E, 134th Infantry, was subjected to direct fire from German machine guns located in fortified emplacements. Private Wiecking, a rifleman, voluntarily made his way toward the enemy position in the face of withering fire and hurled two grenades into the hostile installation, killing the enemy gun crew and destroying their weapon. While thus engaged in clearing a path for his unit's advance with utter disregard for his own safety, Private Wiecking was killed by a burst of fire from an adjacent machine gun. His unselfish display of courage and fighting spirit greatly contributed to the success of his company in this operation and is in accord with the military traditions of the United States Army. Entered military service from Ohio.
General Orders No. 59, Headquarters 35th Infantry Division, 31 December 1944
Date Unknown