134th Infantry Regiment Website

"All Hell Can't Stop Us"
T/5 James W Wilber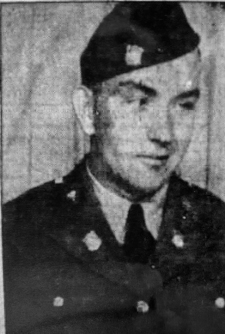 134th Infantry Regiment - Medical Detachment
James Wilmot Wilber, son of Charles Griffin and Grace Arlene (Zimmerly) Wilber, was born March 30, 1913 in Tacoma, Washington. His family moved from Washington to Nebraska in 1917. He registered for the draft on October 16, 1940 and married Elsie Alexander on May 6, 1943. He was inducted into the Army in 1941 and served as a Surgical Technician in the Medical Detachment, 134th Infantry Regiment. T/5 James W Wilber was killed in action July 18, 1944 in the vicinity of St Lo, France. He was awarded the Silver Star Medal for gallantry during the battle in which he lost his life. He is buried at Normandy American Cemetery, Colleville-sur-Mer, France.
Silver Star Medal (posthumous)
Technician 5th grade James W Wilber, 37085050, Medical Department, United States Army, for gallantry in action on 16 July 1944, near St Lo, Normandy, France. A message was received that an injured American soldier was lying in an enemy mine field, and that he was exposed to heavy concentrations of enemy fire. Technician Wilber, a surgical technician, volunteered, together with two officers and another surgical technician, to enter the minefield for the purpose of rescuing the wounded man. Successful entry was made into the mined area under heavy concentrations of enemy fire; The wounded soldier was picked up and the rescue party started for safety. They had almost cleared the area when a mine exploded, killing one of the officers and Technician Wilbur, and seriously injuring the other officer and technician. Inasmuch as the explosion occurred at the edge of the mine field, the rescue was successful, since nearby comrades were able immediately to drag the injured personnel to safety. His dauntless courage, above and beyond the call of duty to save another comrade at the cost of his own life, is a tribute to Technician Wilbur and reflects credit upon the military service. Entered military service from Nebraska.
General Orders No. 20, Headquarters 35th Infantry Division, 15 August 1944
| | |
| --- | --- |
| Deuel County Herald, Big Springs, Nebraska - May 27, 1943 | |
| | Deuel County Herald, Big Springs, Nebraska - August 31, 1944 |