134th Infantry Regiment Website

"All Hell Can't Stop Us"
Capt Leslie G Wilson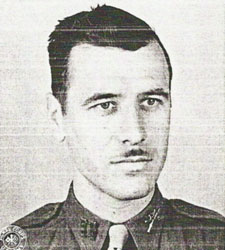 134th Infantry Regiment - Headquarters Company 1st Battalion
Leslie Gates Wilson, son of Francis Dow and Mabel Estelle (Gates) Wilson, was borni n Nebraska October 24, 1915. He was married to Delores LaCounte. He joined the Nebraska National Guard in 1934 and was inducted into Federal service December 23, 1940 at Omaha, Nebraska. Capt Leslie G Wilson was Commander of Headquarters Company 1st Battalion, 134th Infantry Regiment. He was killed in action July 15, 1944 during the battle for St Lo, France and is buried at Normandy American Cemetery, Colleville-sur-Mer, France.
Silver Star Medal Citation (posthumous)
A Silver Star is awarded, posthumously, to Captain Leslie G Wilson, O-417744, Infantry, United States Army, for gallantry in action in the vicinity of Saint Lo, France on 15 July 1944. Captain Wilson voluntarily accompanied his Battalion Commander to a forward position. Upon learning that the attack was being impeded by fire from an enemy machine gun a short distance away, Captain Wilson voluntarily organized a patrol to destroy the enemy position. in the face of heavy artillery and small arms fire, Captain Wilson led his hastily organized patrol and successfully destroyed the enemy position at the cost of his own life. By this heroic and voluntary action Captain Wilson succeeded in destroying a major obstacle and enabled the company to continue the attack. The valor displayed by Captain Wilson at the cost of his life is in accordance with the highest military traditions.
General Orders No 64, Headquarters 35th Infantry Division, 26 November 1945

Omaha World Herald, August 1944