134th Infantry Regiment Website

"All Hell Can't Stop Us"
Pfc Herbert J Yarmus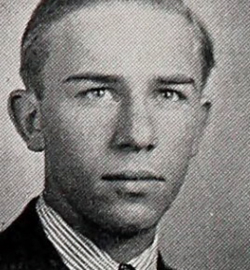 1939
134th Infantry Regiment - Company F
Herbert Jerome Yarmus, son of Herman and Beatrice Yarmus, was born in Brooklyn, New York. His draft registration lists his birthdate as September 8, but his headstone application shows September 9, 1923. He graduated from DeWitt Clinton High School in the Bronx. He registered for the draft June 30, 1942. At that time he was a student at the University of Pennsylvania. He was inducted into the Army February 23, 1943 at Fort Meade, Maryland and joined Company F, 134th Infantry Regiment as a machine gunner from the 83rd Replacement Battalion on December 24, 1944 while the Regiment was at Metz, France. The following night the order to move was received and within 24 hours of leaving Metz they were in the thick of battle near Bastogne, Belgium. He was first reported missing but it was later confirmed that he had been killed in action by machine gun fire on January 6, 1945, about 500 yards east of Remoifosse while attacking in the direction of Lutrebois, Belgium. Pfc Herbert J Yarmus is buried at Mount Judah Cemetery, Ridgewood, New York.