134th Infantry Regiment Website

"All Hell Can't Stop Us"

PFC Keith N Bullock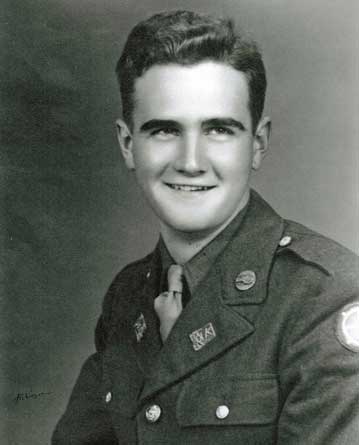 Before WWII - innocent and eager
137th Infantry Regiment - Headquarters Company - 2nd Battalion
Keith Bullock, age 18 in 1943, was drafted into the Army ten days after high school graduation. He served in front line combat with the 35th Infantry Division for 264 (almost continuous) days and 1,600 combat miles during World War II. Five battle stars for Normandy, Northern France, The Ardennes, Rhineland and Central Europe were awarded. Keith's responsibility as a Forward Scout with Headquarters Company, 2nd Battalion, 137th Regiment consisted of determining location of automatic weapons, fortifications, wire entanglements, minefields, booby-trapped areas, fields of fire through woods, roadblocks, CPs or indications of enemy improving their defense.
Scouts obtained information about strength, disposition, and probable intentions of enemy forces, route conditions, locations for bivouac, and terrain features in order to facilitate tactical employment and maneuver of friendly troops preventing surprise attack. They operated from an observation post or on foot; recorded observations and did transmission by best available means of communication. Scouts observed activity, disposition and strength of enemy detachments and arrived at a conclusion about probable enemy intention. They were required to read maps, make sketches, use compass and field glasses and determine what load may be moved over bridges and roads on route of advance. They had to be proficient in use of weapons and having excellent visual memory and being able to remain oriented in unfamiliar territory.
Training included 14 enjoyable days during Mountain Maneuvers at Seneca Rocks, West Virginia, in March 1944; plus multiple midnight forced marches carrying a humongous pack. He was a Quality marksman all his life.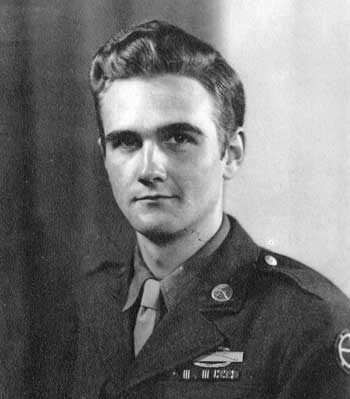 Keith sailed for England with the 35th Division on May 12, 1944; entered hedgerow fighting with the Second Wave D-Day Invasion on July 7. Many battles ensued as the 35th advanced eastward across France. At Metz on Christmas Day 1944, the Division was urgently directed north by order of General Patton to help relieve Bastogne during the Battle of The Bulge. Fierce fighting in deep snow around Villers-la-Bonne-Eau occupied the 137th Regiment from December 27 to January 13, 1945. This was against the SS Adolph Hitler Division and the 339th Nazi Infantry Regiment. "Vigorous night patrols" were conducted resulting in heavy casualties.
In Keith's own words: As an S-2 (MOS 761), I was constantly patrolling beyond our lines. I did, to the best of my ability, my duties as a member of the 137th Infantry. Only twice were my kills one on one and personal. The rest involved calling in Artillery or Mortar fire; and/or observation of The Krauts; reporting information to my commander, Colonel George T. "Tommy" O'Connell; an officer whom Keith greatly admired.
Spring 1945 found the 35th in The Netherlands; battles fought at Venlo, Maastricht and Rheinberg followed. The 35th crossed The Rhine River on pontoons March 23, 1945. Then, by April 15, the 35th Division was at the Elbe River; ordered to allow Russian troops to conquer Berlin. After German surrender the 137th Infantry did occupation duty at Hannover, Hameln, Bottrop, Buer which all suffered lack of food. Later Keith was in Simmern where he met the Werner family and operated a photo printing business for fellow GIs. On July 15, 1945 the 137th provided an honor guard for President Truman in Brussels on his journey to the Potsdam Conference. Then, on August 23, the 137th sailed from Le Harve for Boston where Welcome Home was warmly celebrated.
Kalamazoo, Michigan was Keith's home where he returned and married his high school sweetheart. They were parents to three - after Keith had spent seven years trying to rid himself of his "battle rattles."
A 34 year career at Kalamazoo's Upjohn Company in pharmaceuticals followed. Keith retired in 1987 as head of their 'materials stores warehouse' keeping an inventory of $4 million in raw materials (55 gallon drums) which were used in beginning steps to drug manufacture.
35th/137th Annual Reunions (1986-2008) were large in daily life for Keith and Marge (Keith's second wife). Ideas pondered, organization done, invitations sent, decorations made, correspondence tended, and co-ordinations, especially with seven European Remembrance groups routine challenges. Most enjoyable was 1997-98 when Keith was voted President of the 35th Division Association. Reunion held in Harrisburg, PA with opportunity for tours at Carlisle Army War College, Gettysburg Battlefield, Hershey, and the Pennsylvania Statehouse. Attendance was 254; an experience tremendously enjoyed with 54 years worth of old friends - a Civil War Costumed Ball -- Norm Carey (A-320) in Union attire; ladies in hoop skirts; Tom Tholen (B-137) playing piano for Sing Alongs.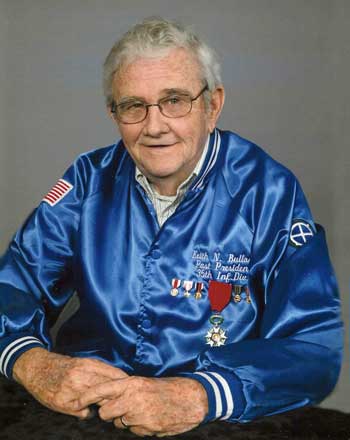 Keith Bullock 2008 with French Legion of Honor
KNB quote: In war, the only good to come out of it is comradeship such as mine with Kenny Faulkner (C-137), his granddaughter Holli Harwell, and many other friends over the years. PFC Keith N. Bullock was inducted into the 35th Division Hall of Fame (Class XIII) on October 9, 2021.
Thanks to Keith's wife Marge for this information