134th Infantry Regiment Website

"All Hell Can't Stop Us"

T/Sgt Clarence T "Click" Kemper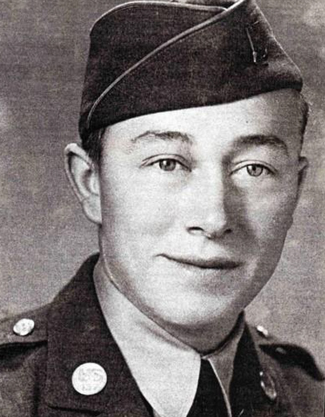 137th Infantry Regiment - Company M
Tech Sergeant Clarence T. "Click" Kemper served as a Platoon Sergeant in Company M, 137th Infantry Regiment, from Camp Robinson, Arkansas through the end of World War II, earning the Bronze Star Medal for heroic leadership at Livachamps, Belgium, on January 2, 1945 during the Battle of the Bulge. He was also wounded twice and received two Purple Hearts.
T/Sgt "Click" Kemper was born on September 26, 1918 in Kansas City, Oregon, one of seven children. He attended Visitation Grade School and graduated from Visitation High School in the Verboort, Oregon community where he spent most of his life. He was a ballplayer and attended Lefty O'Doul's baseball school in San Francisco, California.
He was drafted into the Army in 1940 at the age of 22, a full year before WWII began. He completed Basic Combat Training at Camp Roberts, California, then was sent to Company M, 137th Infantry Regiment, 35th Infantry Division, at Camp Robinson, Arkansas. Following the attack on Pearl Harbor on December 7, 1941, he went with his unit to California to guard the west coast of the United States against a Japanese invasion. There he guarded bridges, tunnels, railroad trestles, and the Douglas Aircraft Factory near Long Beach, California. At that time he also became a member of the unit's baseball team, continuing with this as the unit moved to San Luis Obispo, California, where it was housed in the famous San Francisco Cow Palace. Here they thought they were being sent to the Pacific Theater.
But that was not to happen. In 1942 he and his unit were sent to Camp Rucker, Alabama, from which they participated in the Tennessee Maneuvers. From there they were sent to Camp Butner, North Carolina, and then to West Virginia for mountain training. Here they thought they were being sent to Italy.
Wrong again, they were sent to Camp Kilmer, New Jersey for embarkation to England and the European Theater on the Thomas H. Berry. Landing at Liverpool, England, they were soon involved in training for hedgerow fighting. On July 5, 1944, T/Sgt "Click" Kemper, now a Machine Gun Squad Leader, and his unit crossed the English Channel at night on the Liberty boat "Lou Gehrig". Landing on Omaha Beach they were immediately to begin their war in the hedgerows of Normandy, France. That same day he began losing men from his squad and Company M.
Wounded by enemy shrapnel in the shoulder at St. Lo, France, the medics gave him shock pills, treated his wound, hung a strip of gauze from his back so that the enemy would know that he was wounded, and sent him to the rear. They also awarded him a Purple Heart on the spot. Eventually he got a ride to the 137th Infantry Battalion Aid Station, which sent him to a field hospital. Here they took out the shrapnel and stitched him up. After two weeks he was sent back to the front to find his unit.
Now in charge of four squads, T/Sgt "Click" led his men as fighting continued at Nancy, Sarreguemines, and across southern France. By Christmas they were at Metz, France, before being sent north to assist in the relief at Bastogne, Belgium during the Battle of the Bulge. After a fierce battle at Livarchamps, Belgium, on January 2, 1945 he was awarded the Bronze Star Medal.
The citation reads "For heroic service in connection with military operations against an enemy of the United States, in the vicinity of Livarchamps, Belgium, on January 2, 1945. When his heavy machine gun section, supporting an infantry attack, was subjected to an enemy counterattack, this soldier remained at his post, firing his weapon until it jammed. He then withdrew and consolidated the positions of his section with the rifle company. Accompanied by two companions, Staff Sergeant Kemper then went forward under fire to retrieve equipment that had been left in the forward position. His courageous actions under fire are in accord with the highest military tradition."
As they then moved forward into Holland and then Germany, his machine guns were repeatedly set up at the very edges of the unit in direct contact with the enemy so that his unit could move forward. Often this was done at the edge of towns where there was little cover. Every day was a day of risk for survival. In his memoirs of the war, he said that "One day I received a new replacement to my section. I told him where to dig in. Before he got a hole dug a mortar shell hit him and killed him. I got a splinter from that shell in the calf of my leg. I went to the Aid Station, where they took it out, gave me a Purple Heart cluster (Second Award), and sent me back up to the front lines."
They crossed the Rhine from Holland into Germany, where they liberated a number of Polish prisoners being forced to work in a German sulfur plant. They reached a location near Hannover, Germany where he went into the woods and shot a deer on a private German hunting preserve, then had the unit's cooks fix a wonderful meal.
He said that when Germany surrendered on May 8, 1945, "We were sent on a long hike because they didn't want us celebrating too much. However that evening, when we came back, there were several kegs of German beer in the Mess Hall for us."
On occupation duty in several towns in Germany after the war, he organized softball teams and tournaments in his spare time, and took a trip to Paris where he went to the "Follies". Because he had 105 points and only 85 were required to be sent home, he was then sent to LeHavre, France for eventual transport back to the United States. Points were earned for length of service, the battles that he had been involved with, the number of Purple Hearts, and any special awards, such as the Bronze Star he had received during the Battle of the Bulge.
Landing at Newport News, Virginia, he and his unit then traveled by train to Ft. Lewis, Washington, where he was discharged. He says that "The next day I rode a bus from Ft. Lewis to Forest Grove, Oregon, my hometown. I felt lucky to get home alive. A lot of my friends didn't make it. It is said that war is hell on earth. I agree because I was there."
He married the love of his life, Blanche Vuylsteke, on November 26, 1946 in Verboort, Oregon. They settled on a small farm, and he began raising cereal crops, vegetables, and berry crops. They eventually had three children - James Kemper, Donald Kemper, and Michele Kemper Anonsen. For supplemental income for his growing family, he also worked outside the farm, first at the saw mill, then for 20 years at General Tire in Portland, Oregon.
Click had a real zest for life like no other. He enjoyed teaching and coaching his sons in youth baseball. He also enjoyed hunting, fishing, rock hounding, playing cards, and exchanging stories on his patio overlooking his garden.
His wife Blanche passed away in February of 2011, and Click a little over a year later on April 21, 2012. Following a Memorial Mass at the Visitation Catholic Church, be was buried next to his wife in Visitation Cemetery, Forest Grove, Oregon. T/Sgt Clarence T "Click" Kemper was inducted into the 35th Division Hall of Fame (Class XII) on October 9, 2021.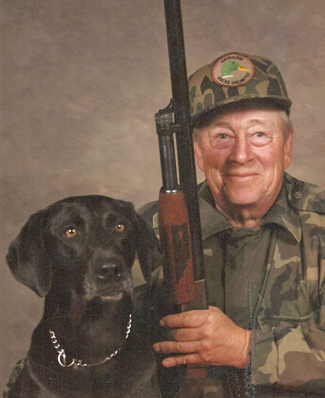 Video of the 35th Division Hall of Fame Induction Ceremony