134th Infantry Regiment Website

"All Hell Can't Stop Us"

2nd Lt Harry M Kingsley
137th Infantry Regiment - Company M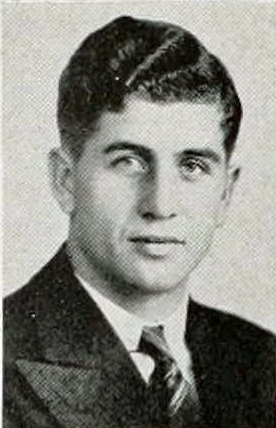 1938 - Kansas State University yearbook photo
Harry Melvin Kingsley, son of Harrison Melvin and Myrtle Mae (Palmer) Kingsley, was born September 4, 1918 in Hays, Kansas. He attended Kansas State University in Manhattan, Kansas where he studied agriculture. He moved to California around 1939 or 1940 and registered for the draft in Los Angeles on October 16, 1940. His draft record lists him as 6' 2" tall, weighing 180 pounds, with brown hair and brown eyes. He was inducted into the Army at Los Angeles, California October 24, 1942. He married Frances Cassara in Glendale, California on February 5, 1944.
2nd Lt Harry M Kingsley served in Company M, 137th Infantry Regiment. He was reported missing in action as of August 11, 1944. At that time the 35th Infantry Division, including the 137th Infantry, was fighting in the vicinity of Mortain, France. It was later learned that he had been wounded in action, suffered a chest wound, and was taken prisoner by the enemy. According to German prisoner of war records, he died of his wounds at Karlsruhe, Germany on August 20, 1944. He is buried at Forest Lawn Memorial Park, Glendale, California and is memorialized at Mount Allen Cemetery in Hays, Kansas.
North Hollywood Valley Times, February 7, 1944