134th Infantry Regiment Website

"All Hell Can't Stop Us"

Pfc. Nara Lavergne
137th Infantry Regiment - Company G, HQ 2nd Battalion, HQ Company
Nara Lavergne, son of Homer and Onelia Lavergne, was born August 16, 1909 in St Landry, Louisiana. He registered for the draft October 16, 1940. Draft records list him as 5' 7" tall, weighing 160 pounds, with blue eyes, blonde hair and a light complexion. He was inducted into the Army on June 7, 1941. Pfc Nara Lavergne served as a Rifleman in the 137th Infantry Regiment, 35th Infantry Division. He was seriously wounded in action April 15, 1945 and died of his wounds that same day. At the time of his death, the 137th Infantry was fighting north of Magdeburg, Germany along the west bank of the Elbe River. He is buried at Saint Bridget Catholic Church Cemetery, Lawtell, Louisiana.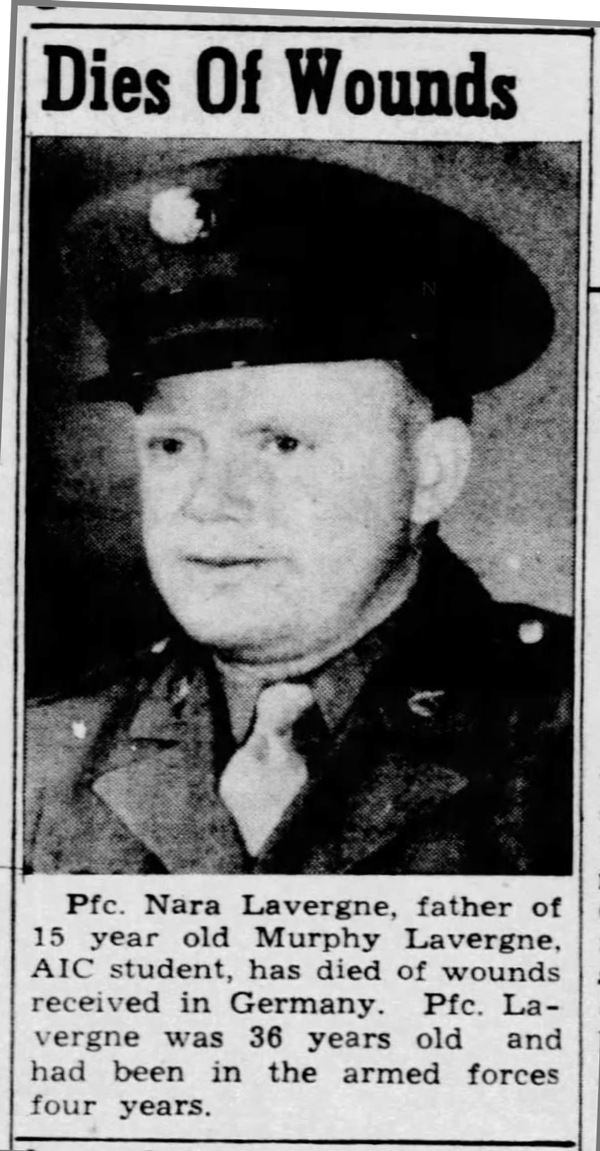 Daily World News, Opelousas, LA, May 3, 1945
Thanks to Jeremy Hansen, Pfc Lavergne's great grandson, for this picture.