134th Infantry Regiment Website

"All Hell Can't Stop Us"
Sgt. Glenn H. McQuillan

137th Infantry Regiment - Company H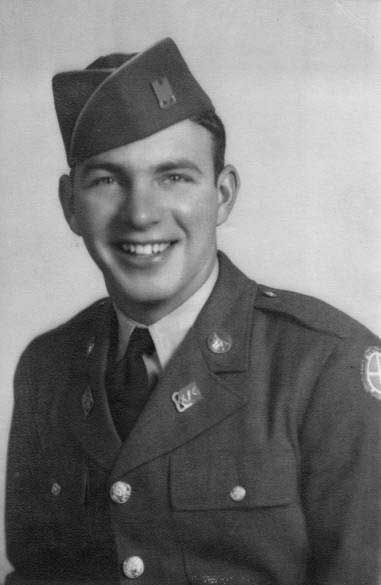 1919 - 1944
Sgt Glenn H. McQuillan was born on Saturday, August 16, 1919. He was the son of Mr. and Mrs. George McQuillan of Clearwater, Kansas and until he entered the Army on February 27, 1941 he spent his entire life in that community. He graduated from Clearwater High School in 1939, where he was a star athlete. The following year he attended the University of Wichita where he was also active in athletics. His Army training was received at Camp Robinson, Arkansas. While there, the 35th Division was on maneuvers in Louisiana and Tennessee. From there he went to California where he was stationed at four different camps. It was at this time that he met, and on December 20, 1942, married, Miss Virginia Marcus. From California, the 35th Division was transferred to Camp Rucker, Alabama and then to Camp Butner, North Carolina before going overseas on May 7, 1944.
Sgt. McQuillan was killed in action on Tuesday, September 12, 1944 near Velle-sur-Moselle, where the 137th Infantry Regiment was attacking to gain the high ground west of the Moselle River, southeast of Nancy, France. He is buried at Highland Cemetery in Winfield, Kansas.
Postcard sent by Sgt. McQuillan to his family. It is postmarked September 7, 1944 - just five days before he was killed in action.
"The 137th Regiment was near Crevechamps, France, preparing to cross the Moselle River. The crossing proved difficult, as the Germans had blown all bridges across the Moselle from Flavigny south, and the enemy held strong positions on the east side of the river, with machine gun emplacements on the steep bluffs overlooking the river, and artillery positions to the rear. The canal running parallel to the river's west bank was an added barrier."

- 137th Infantry Regiment After Action Report
CLICK HERE to read an account of the 137th Infantry Regiment's Moselle River crossing, September 11 - September 14, 1944.
Thanks to Jerome Leclerc of the Association of Espace de Memoire Lorraine 39-45 for these photos and information.