134th Infantry Regiment Website

"All Hell Can't Stop Us"

1st Lt Raymond F Morris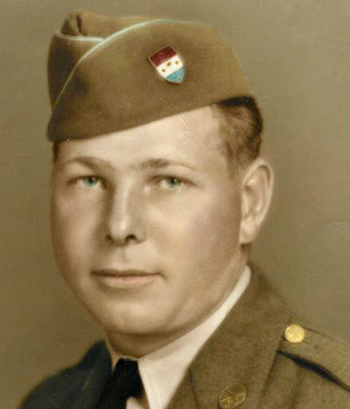 137th Infantry Regiment - Company E
Raymond Franklin (Sammy) Morris of Waynesburg, Pennsylvania was born January 22, 1915. He entered service on February 17, 1941. He and his wife Ruth had 2 children. He served in Company E, 137th Infantry Regiment and was promoted from 2nd Lieutenant to 1st Lieutenant on September 9, 1944. He was Killed in Action September 21, 1944 in the vicinity of Nancy, France while leading an attack against enemy forces. He was awarded a Silver Star Medal for gallantry in action during that battle. 1st Lt Raymond F Morris is buried at Greene County Memorial Park, Morgan Township, Pennsylvania.
Silver Star Medal Citation (posthumous)
First Lieutenant Raymond F Morris, O1312319, Infantry, United States Army, for gallantry in action in the vicinity of Nancy, France, 20 September 1944. After guiding his platoon in a crawling advance along a road near the Forest of * * * . Lieutenant Morris led his men in a running attack across open rolling fields against enemy positions located some five hundred yards away. As he moved along the highway deploying his troops, he was caught in cross fire from enemy machine guns. Although mortally wounded, Lieutenant Morris continued to direct the movement of his platoon across the field, shouting instructions until the forest had been entered and the German positions overrun. His gallantry in action and zeal for the accomplishment of the mission at hand even at the cost of his own life served as an inspiration to the men under his command and were largely responsible for the success of his unit in this operation. Entered military service from Pennsylvania.
General Orders No. 45, Headquarters 35th Infantry Division, 19 October 1944