134th Infantry Regiment Website

"All Hell Can't Stop Us"

Pfc. Edward J. Murphy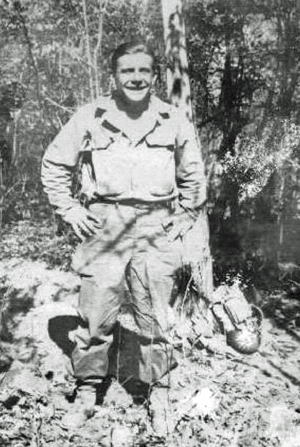 137th Infantry Regiment - Company F
Silver Star Medal Citation
Private First Class Edward J Murphy, 12209680, Infantry, United States Army, for gallantry in action in the vicinity of

* * * , France, 22 August 1944. During an engagement with the enemy, Private Murphy went forward, in the face of heavy machine gun and mortar fire, to rescue a wounded comrade. Rendering first aid to the wounded man, Private Murphy carried the man, much larger than himself, a distance of seventy-five yards back to his own lines. He then learned that an order to withdraw had been issued, whereupon he carried the wounded man over hilly terrain and through hedgerows for another three hundred yards, where he evacuated the wounded man to the medical detachment for further treatment. Because of the gallant action of Private Murphy and his loyalty to a comrade, a wounded man was spared further injury and possible death. Entered military service from New York.
General Orders No. 33, Headquarters 35th Infantry Division, 17 September 1944
Pfc. Edward J. Murphy was Killed in Action September 21, 1944 in the vicinity of Nancy, France. He is buried at Forest Lawn Cemetery in Buffalo, NY.
Thanks to Nancy Skrocki this photograph