134th Infantry Regiment Website

"All Hell Can't Stop Us"

1st Lt Otto A Nance, Jr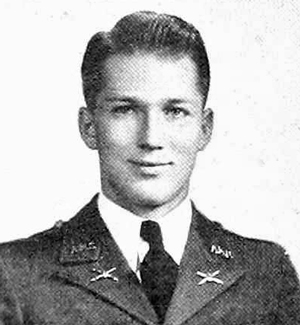 137th Infantry Regiment - Company I
Otto Austin Nance, Jr, son of Otto and Hazel (Hearn) Nance, was born in Dallas, Texas on August 14, 1921. He graduated from Texas A&M University in 1943. He registered for the draft January 20 and was inducted into the Army on February 9, 1943. He was commissioned as Second Lieutenant on May 20, 1943 in the Anti-Aircraft Artillery and served a year at Camp Davis, North Carolina before transferring to the Infantry. He joined Company I, 137th Infantry Regiment as a Platoon Leader from the 18th Replacement Depot on February 11, 1945. He was awarded a Silver Star Medal for gallantry in action on March 8, 1945, while fighting in the vicinity of Ossenberg, Germany. He went on a leave of absence to the Riviera, France on April 1 and returned to duty on April 10, 1945. He was promoted to 1st Lieutenant on April 24, 1945. 1st Lt Otto A Nance, Jr was Killed in Action April 26, 1945. He is buried at Hillcrest Memorial Park, Dallas, Texas. 1st Lt Nance was the last member of the 137th Infantry Regiment to be Killed in Action during WWII.
Silver Star Medal Citation
Second Lieutenant Otto A Nance, Jr, O520358, Infantry, United States Army, for gallantry in action near Ossenberg, Germany on 8 March 1945. At the point of his platoon as they attacked and were pinned down by enemy fire, Lieutenant Nance personally led his men in a charge against an enemy-held house and seized it. Then, despite the fact that his carbine had jammed and was useless, he raided an enemy hideout near the building and captured five prisoners. His utter disregard for personal safety, his courage, leadership and inspirational bravery reflect credit upon him as an officer and upon the military service of the United States. Entered military service from Texas

General Orders No 27, Headquarters 35th Infantry Division, 21 April 1945
Austin-American Statesman, Austin, Texas, October 5, 1945