134th Infantry Regiment Website

"All Hell Can't Stop Us"

1st Lt Vernon W Pickett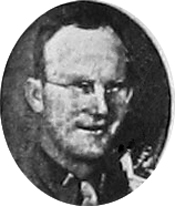 137th Infantry Regiment - HQ Company 3rd Battalion
1st Lt Vernon W Pickett served in Headquarters Company 3rd Battalion 137th Infantry Regiment. He was injured and captured by the enemy on July 15, 1944 in the vicinity of St Lo, France. He was taken to Stalag 221 at Rennes, France where he stayed until August 3 when he was moved out of camp with a group of other prisoners including about 300 other American POWs and loaded into box cars. The night of August 5 a group of POWs, including 1st Lt Pickett, was able to escape by cutting the fastener holding the box car door. On August 12 they made contact with an advance patrol from the 5th Armored Division in the vicinity of St. Martins, France. He returned to duty with the 137th Infantry Regiment on September 1, 1944. 1st Lt Vernon W Pickett was Killed in Action September 14, 1944 near Azelot between the Moselle and Meurthe Rivers in eastern France. He was posthumously awarded the Distinguished Service Cross for extraordinary heroism and is buried at Alexandria National Cemetery in Pineville, Louisiana.
| | | |
| --- | --- | --- |
| | | |
| The Town Talk, Alexandria, LA, Aug 14, 1944 | The Times, Shreveport, LA, Aug 22, 1944 | The Town Talk, Alexandria, LA, Oct 7, 1944 |