134th Infantry Regiment Website

"All Hell Can't Stop Us"

Pvt William K Waymire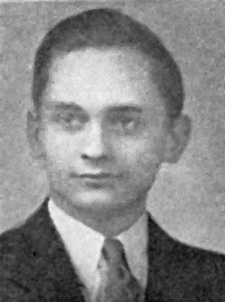 Eastern High School, Detroit, Michigan - 1937
137th Infantry Regiment - Company A
William Kirk Waymire, son of William Watson and Elizabeth Marie (Kirk) Waymire, was born May 14, 1919 in Rensselaer, Indiana. He married Bernice Darga and the couple had 2 children, a daughter Shirley Ann born in 1939 and a son Kirk born in 1940. He registered for the draft October 16, 1940. At that time he was working at the Commercial Art Products Company in Detroit, Michigan. He joined Company A, 137th Infantry Regiment from the 14th Replacement Battalion on December 23, 1944. Pvt William K Waymire was killed in action December 31, 1944 just south of Bastogne, Belgium. He is buried at Luxembourg American Cemetery, Hamm, Luxembourg.
Thanks to Pam Thomsen for this picture. She is the granddaughter of Pfc. John Pergolizzi, 60th Combat Engineers Combat Battalion, 35th Infantry Division who was killed in action October 10, 1944.