134th Infantry Regiment Website

"All Hell Can't Stop Us"

2nd Lt Jack R Wetzel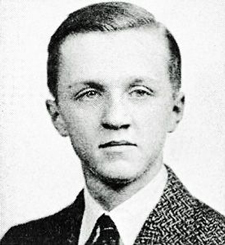 137th Infantry Regiment - Company C
Jack Rusk Wetzel, son of John and Dorothea Wetzel, was born March 5, 1925 in Cumberland, Maryland. He registered for the draft March 5, 1943. At the time he was a student at the University of Maryland. He entered military service in July 1943, attended officers' candidate school at Fort Benning, Georgia and was commissioned as 2nd Lieutenant December 2, 1944 before leaving for the ETO. He joined Company C, 137th Infantry Regiment from the 53rd Replacement Battalion on January 22, 1945. 2nd Lt Jack R Wetzel was originally reported missing and it was later confirmed that he was killed in action February 7, 1945 in the vicinity of Aphoven, Germany west of the Roer River. He is buried at Netherlands American Cemetery, Margraten, Netherlands.
| | |
| --- | --- |
| Cumberland Evening Times, Cumberland, MD - December 6, 1944 | |
| | The Cumberland News, Cumberland, MD - February 22, 1945 |
Thanks to Pam Thomsen for this picture. She is the granddaughter of Pfc. John Pergolizzi, 60th Combat Engineers Combat Battalion, 35th Infantry Division who was killed in action October 10, 1944.