134th Infantry Regiment Website

"All Hell Can't Stop Us"

Pfc Peter T Youpa
137th Infantry Regiment - Company E
Peter Thomas Youpa, son of Joseph and Anna (Bakos Kupcha) Youpa, was born July 6, 1918 in Phillipsburg, New Jersey. He registered for the draft October 6, 1940 and was inducted into the Army July 29, 1943 at Newark, New Jersey. He joined Company E, 137th Infantry Regiment on July 13, 1944 from the 41st Replacement Battalion and served as a Rifleman. Pfc Peter T Youpa was killed in action the following day, July 14, 1944, in the vicinity of St Lo, France. He is buried at Saints Peter and Paul Byzantine Catholic Cemetery, Alpha, New Jersey.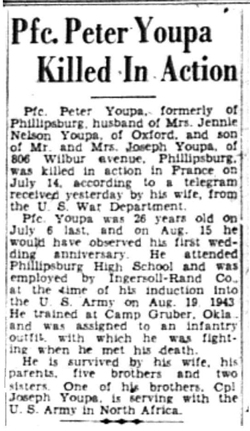 The Easton Express, Easton, Pennsylvana - August 10, 1944
Thanks to Pam Thomsen for this picture. She is the granddaughter of Pfc. John Pergolizzi, 60th Combat Engineers Combat Battalion, 35th Infantry Division who was killed in action October 10, 1944.