134th Infantry Regiment Website

"All Hell Can't Stop Us"
S/Sgt Louis Gill
320th Infantry Regiment - Company K
Select image below to view larger size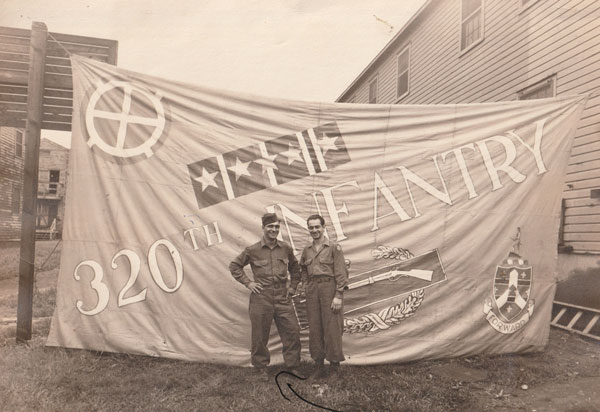 Left, Louis Gill - Right, Marty (Mario) Micolo, motar man
| | | |
| --- | --- | --- |
| | | |
| Louis Gill | Louis Gill and his father | Louis Gill - Germany |
Louis Gill was born October 18, 1922 in Cleveland, Ohio. His parents were immigrants from Spain. He was 22 years old and single when he enlisted in the Army during March of 1943. At the time of his enlistment he was working at J&L Steel, where he had been employed since he was a sophomore in high school. He attended Bard College for 1 year while in the Army, when they thought the war was going to be a very long one.
He landed at Omaha Beach with Company K, 320th Infantry Regiment on July 6 and was wounded in action July 13, 1944 during the battle for St. Lo, France. After recuperating from his wounds, he returned to duty October 4, 1944 while the Regiment was fighting in the Gremecey Forest, France. Ten days later he was promoted to Sergeant. He was again wounded in action on November 22, 1944 near the town of Grening, France. He returned to duty on March 14, 1945. Sometime later he was promoted to Staff Sergeant and was with the Regiment when they returned to the U.S. aboard the Queen Mary, sailing from Southhampton, England on September 5 and arriving in New York harbor September 10, 1945. He was discharged from the Army in October 1945.
After the war Louis Gill returned to work as an electrician/motor inspector at J&L Steel where he was employed until his retirement in 1983. He married Thelma Roberson on May 15, 1948 and they had 4 children; Vincent, Dennis, Kevin and Diane. He has 8 grandchildren and 7 great-grandchildren. This May (2018) will be their 70th Wedding Anniversary.

Purple Heart Medal with Oak Leaf Cluster
Wounded in action July 13, 1944 and November 22, 1944
Thanks to Louis Gill and his daughter Diane Gill McBane for the pictures and biographical information.