134th Infantry Regiment Website

"All Hell Can't Stop Us"
Pfc Ney C "Buddy" Wagner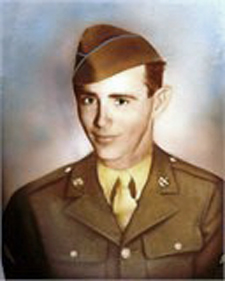 Company L - 320th Infantry Regiment
Ney Cecil "Buddy" Wagner, son of Leonard Clayton and Annie Mae (Champion) Wagner, was born May 23, 1917 in Hays County, Texas. He married his wife Grace on June 22, 1940. The couple had 2 sons, Leonard James born in 1941 and Cecil Andrew born in 1943. He registered for the draft October 16, 1940 and was inducted into the Army March 17, 1944 at Fort Sam Houston, Texas. He joined Company L, 320th Infantry Regiment September 22, 1944 from the 38th Replacement Battalion and served as a Rifleman. He was promoted to Private First Class October 4, 1944. Pfc Ney C Wagner was seriously wounded in action on New Years Day 1945 in the vicinity of Harlange, Luxembourg and died of his wounds January 7, 1945. He is buried at Blanco Cemetery, Blanco, Texas.
Blanco County News, Johnson City Texas, August 19, 1948
Thanks to Pam Thomsen for this picture. She is the granddaughter of Pfc. John Pergolizzi, 60th Combat Engineers Combat Battalion, 35th Infantry Division who was killed in action October 10, 1944.