134th Infantry Regiment Website

"All Hell Can't Stop Us"
Pvt John C Walker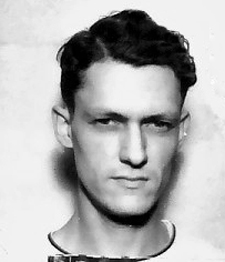 Company L - 320th Infantry Regiment
John Cleve Walker, son of Cleveland and Minta (Sumner) Walker, was born June 15, 1917 in Hazzard, Kentucky. He married Ruth Virginia Sullivan on March 18, 1939 and the couple had 2 children, a son John Cleve Jr born in 1939 and a daughter Dixie Rose born in 1940. He was inducted into the Army April 12, 1944 at Fort Thomas, Newport, Kentucky and joined Company L, 320th Infantry Regiment from the 83rd Replacement Battalion on December 24, 1944 at Metz, France. He was seriously wounded in action by artillery shrapnel January 3, 1945 in the vicinity of Harlange, Luxembourg, a small town roughly 8 miles southeast of Bastogne, Belgium. Initially treated at the 110th Medical Battalion Aid Station, he was transferred to the 16th Field Hospital where he died of his wounds that same day. Pvt John C Walker is buried at Luxembourg American Cemetery, Hamm, Luxembourg.

Thanks to Pam Thomsen for this picture. She is the granddaughter of Pfc. John Pergolizzi, 60th Combat Engineers Combat Battalion, 35th Infantry Division who was killed in action October 10, 1944.