134th Infantry Regiment Website

"All Hell Can't Stop Us"
S/Sgt Virgil O Walters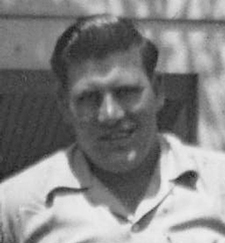 Company L - 320th Infantry Regiment
Virgil "Bud" Oliver Walters, son of Robert Owen and Mary Catherine (Byrne) Walters, was born May 26, 1918 in Farmington, Washington. He registered for the draft October 16, 1940. At that time he was living in Walker Mine, California and working at the R.S. McClintock Mining Company. He was inducted into the Army March 22, 1942 at Spokane, Washington. He married Wanda Allison Sligar December 12, 1942. The couple had one child, a son Larry James, born in 1943. S/Sgt Virgil O Walters was a Squad Leader in Company L, 320th Infantry Regiment. He was wounded in action July 17, 1944 in the vicinity of St Lo, France and returned to duty with the Regiment September 1, 1944. He was killed in action September 29, 1944 while fighting in the Gremecey Forest, about 30 miles southeast of Metz, France. He was awarded a Silver Star Medal for gallantry during the battle in which he lost his life. He is buried at Golden Gate National Cemetery, San Bruno, California.
Silver Star Medal Citation (Posthumous)
Staff Sergeant Virgil O Walters, 39175224, Infantry, United States Army, for gallantry in action in the Foret de Gremecey, France on September 29, 1944. During a heavy engagement with the enemy in the Gremecey Forest, Sergeant Walters, a squad leader, skillfully reorganized his depleted squad to serve as flank security for his company. Although exposed to enemy fire aimed directly at him, he moved about among his men, instructing and encouraging them, and placing them in advantageous positions. He then commenced to evacuate several of his wounded men for medical attention. While returning to his squad to evacuate other wounded he was killed by enemy artillery fire. Sergeant Walter's leadership, his zealous devotion to duty and his courage, constitute such gallantry in action as to be in accord with the traditions of military service. Entered military service from Washington.
General Orders No. 49, Headquarters 35th Infantry Division, 1 November 1944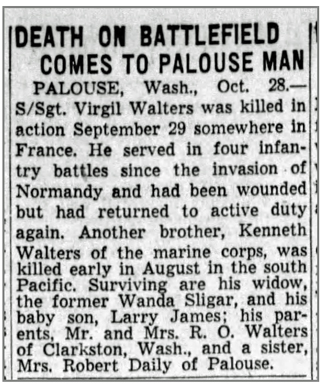 Thanks to Pam Thomsen for this picture. She is the granddaughter of Pfc. John Pergolizzi, 60th Combat Engineers Combat Battalion, 35th Infantry Division who was killed in action October 10, 1944.